I'm a little late writing about Phoebe aka Toots turning 3 months old, but I think my excuse was valid.  In the blink of an eye our little lady turned 3 months old and she is literally changing right before our eyes, and I can't believe how big she's getting.  She still fits in most of her 3 month clothes, however we may have to move up to larger pajamas sooner than I would have thought… especially with her long feet. Still, it's sad to already have put her tiny newborn pajamas in storage.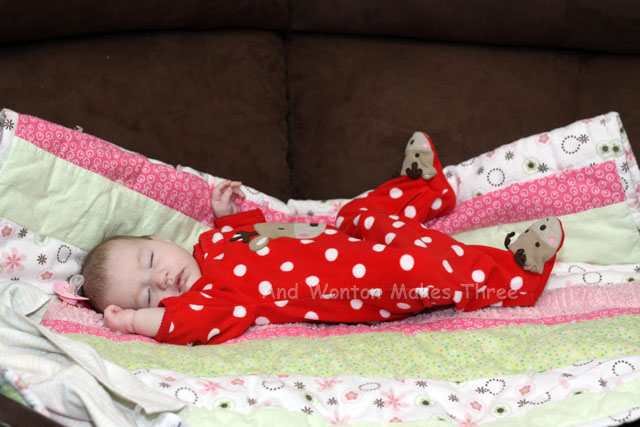 What to tell you about our little lady?  We thought for sure that we had gotten lucky with what an easy baby Enzo was, but Phoebe might be even more easy-going than he was.  This little lady is so patient, and I couldn't be more grateful since her big brother demands a lot of attention (as most toddlers do). She is full of smiles and has really started talking, which makes us all laugh on a daily basis. I think she's already realized that to be heard in this house, she'll need to raise her voice. 😉
Along with loving diaper changes, she loves to lay in her crib and watch her mobile. She also loves looking at the lamp we have in the living room as well as her Himalayan salt lamp, and she enjoys music as well.  She's a big fan of bath time, and I ordered this cool bath tub insert thing from Amazon that allows both her and Enzo to fit in the tub at the same time. So for now she's using the side that has a mesh hammock and when she's sitting on her own you can flip it over and it's a nice little protective tub, so big brother can't accidentally knock her over. 😉
Overall she really doesn't complain about much, and is such a joy in our house. I still love watching how she and Enzo are together.  He has his moments where sometimes he says, "Go" to her if he wants her to move or instead he'll pat the seat/bed/spot next to him and say, "BeeBee" to let us know he wants us to put her next to him.
I just want to squish this gal of mine.  I'm so excited to watch her grow and continue to change… and buy her adorable clothing. Seriously… so many cute clothes.  I always managed to find cute stuff for Enzo, but I have to admit… it's so much more fun to pick out girl clothes. Looks like I'd better take up sewing. :p