Number Of Books You Read: 67
Number of Re-Reads:  3
Genre You Read The Most From: It was a pretty varied year
1. Best Book You Read In 2018?
An American Marriage by Tayari Jones
Sing, Unburied, Sing by Jesmyn Ward
2. Book You Were Excited About & Thought You Were Going To Love More But Didn't?
I don't think I was really that letdown by any books I was truly excited about, so despite reading a few duds, they weren't duds I was expecting to be great.
3. Most surprising (in a good way or bad way) book you read?
The Outsider by Stephen King
I wasn't expecting one of my favorite characters to turn up in this one, but it made it that much more enjoyable for me!
4. Book You "Pushed" The Most People To Read (And They Did)?
Saga, Saga, Saga. Haha!
5. Best series you started in 2018? Best Sequel of 2018? Best Series Ender of 2018?
Best Series: Wayward Pines series by Blake Crouch
Best Sequel: Us Against You by Fredrik Backman
Best Ender: Kingdom of Ash by Sarah J. Maas
6. Favorite new author you discovered in 2018?
Jesmyn Ward
7. Best book from a genre you don't typically read/was out of your comfort zone?
I don't read many memoirs, but enjoyed My Father, the Pornographer: A Memoir by Chris Offutt.
8. Most action-packed/thrilling/unputdownable book of the year?
I read a handful of books that made me want to keep turning the page, but I'm going to go with true crime for this one.
I'll Be Gone in the Dark: One Woman's Obsessive Search for the Golden State Killer by Michelle McNamara
9. Book You Read In 2018 That You Would Be MOST Likely To Re-Read Next Year?
The Saga series (of course)
An American Marriage by Tayari Jones
10. Favorite cover of a book you read in 2018?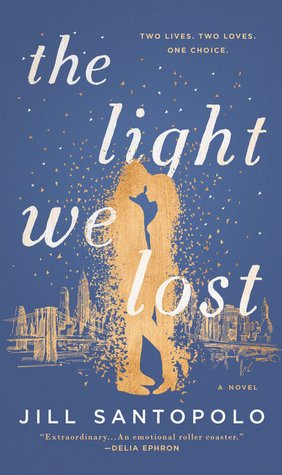 11. Most memorable character of 2018?
Benji Ovich from Beartown and Us Against You
12. Most beautifully written book read in 2018?
The End We Start From by Megan Hunter
13. Most Thought-Provoking/ Life-Changing Book of 2018?
An American Marriage by Tayari Jones
14. Book you can't believe you waited UNTIL 2018 to finally read?
Beartown by Fredrik Backman
15. Favorite Passage/Quote From A Book You Read In 2018?
"But inside us there is a word we cannot pronounce and that is who we are." Anthony Marra, A Constellation of Vital Phenomena
16.Shortest & Longest Book You Read In 2018?
Shortest: Saga Vol. 8 by Brian K. Vaughan (146 pages)
Longest: Kingdom of Ash by Sarah J. Maas (992 pages)
17. Book That Shocked You The Most
(Because of a plot twist, character death, left you hanging with your mouth wide open, etc.)
Saga Volume 9
That ending!! I need to know what happens next.
18. OTP OF THE YEAR (you will go down with this ship!)
(OTP = one true pairing if you aren't familiar)
Alana and Marko (Saga)
19. Favorite Non-Romantic Relationship Of The Year
Dan Torrance and Abra Stone (Doctor Sleep)
20. Favorite Book You Read in 2018 From An Author You've Read Previously
Small Great Things by Jodi Picoult
21. Best Book You Read In 2018 That You Read Based SOLELY On A Recommendation From Somebody Else/Peer Pressure/Bookstagram, Etc.:
A Constellation of Vital Phenomena by Anthony Marra
22. Newest fictional crush from a book you read in 2018?
I grew to love Manon even more in Kingdom of Ash
23. Best 2018 debut you read?
Eesh… I feel like I'm just repeating myself with these. Haha
24. Best Worldbuilding/Most Vivid Setting You Read This Year?
Mary Stewart's Arthurian Britain
25. Book That Put A Smile On Your Face/Was The Most FUN To Read?
Unmentionable : The Victorian Lady's Guide to Sex, Marriage, and Manners by Therese Oneill – I enjoyed the sarcasm and wit. Sure, it may not offer a complete picture of the 19th century (I'm not an expert), but it was funny and a light read before moving onto more serious non-fiction regarding the era.
(Okay, I didn't quite finish this one this year, but close and really the funniest one I read.
26. Book That Made You Cry Or Nearly Cry in 2018?
Doctor Sleep by Stephen King (the ending)
Bear Town by Fredrik Backman
Winter Loon by Susan Bernhard
27. Hidden Gem Of The Year?
I can't say that it was hidden, but I enjoyed Tips for Living by Renee Shafransky
28. Book That Crushed Your Soul?
Winter Loon by Susan Bernhard
29. Most Unique Book You Read In 2018?
The Pisces by Melissa Broder
Woman falls in love with a fish man…. Need I say more?
30. Book That Made You The Most Mad (doesn't necessarily mean you didn't like it)?
Small Great Things by Jodi Picoult
I had to put aside the feeling I had that her main character would not actually have acted as she did.
The Dinner by Herman Koch
It was frustrating for me.  I liked the premise, but ultimately it felt so unrealistic and I didn't like any of the characters in the end. 

1. One Book You Didn't Get To In 2018 But Will Be Your Number 1 Priority in 2019?
I have such a massive stack… I have a feeling I'll be playing Roulette to see who goes next.
2. Book You Are Most Anticipating For 2019 (non-debut)?
Circe by Madeline Miller
3. 2019 Debut You Are Most Anticipating?
The Priory of the Orange Tree by Samantha Shannon – Fantasy, strong women and dragons? I'm in!
4. Series Ending/A Sequel You Are Most Anticipating in 2019?
Alas, I don't think they'll be out in 2019.
5. One Thing You Hope To Accomplish Or Do In Your Reading/Blogging Life In 2019?
Find a way to incorporate my love of books with other things. Whether that be blogging again or doing a You-Tube channel, a podcast or something… Still pondering.