Now seems like as good of a time as any to relive our corn maze/pumpkin patch fun since the high for the day is whopping 15 degrees (with a real feel of -2).  We won't dwell, though.  Onward to pumpkins and corn mazes!
If there's one thing to say about Minnesota in the Fall it's that there are no lack of corn mazes and pumpkin patches.  We decided to go with one that seemed to have more included in the price and hoped it wouldn't be too crowded. We also figured it would be a great time to break in our new wagon rather than bringing a stroller.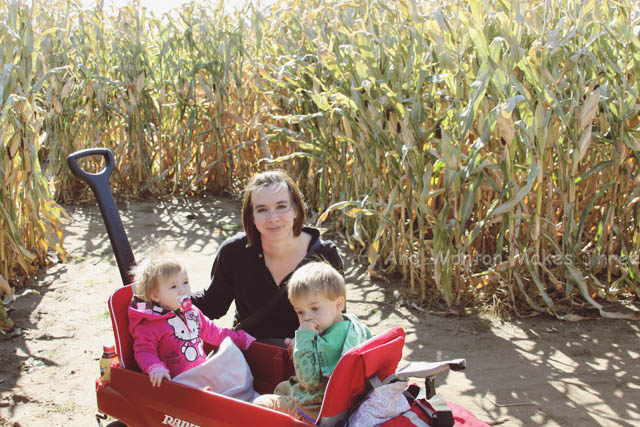 It was our first corn maze, and surprisingly the kids didn't even get bored – I think they were too excited about the wagon to care about anything else.  Phoebe usually likes being carried, but LOVED getting to sit facing her brother… even though he was being a little cranky.  Thankfully there was a helicopter flying around that made him happier.  The kid loves helicopters unless they're the remote controlled kind, in which case he doesn't even want to be in the same room with even if it's turned off.
Aside from the corn maze, there were a few attractions like a bouncy house, slide and pony rides as well as food.  Once again, though, we had to deal with some hornets (sigh) and Enzo had a minor meltdown. Seriously, what was with all the hornets this year? I'm actually a little glad colder temperatures have hit if only because there are no more hornets/wasps and spiders.  Anyhoo, oh yeah, there were pumpkins!
Our front stoop is generally really boring and lacking in decoration (especially since we also never finished our whole landscaping plan), so pumpkins were a must this year.  We figured it would be fun to have Enzo help pick them out and he thoroughly enjoyed the process.  He'd copy his dad and brush off the dirt and attempt to pick them up to get a better look.  All in all, we got some fine pumpkins… that are now covered in snow. Whoops.