I feel like I'm writing a captain's log.  I have nothing to report, and yet I feel it's my duty to try and write daily as I have been instructed.  Things could get weird and even more random… just thought you should know.  But hey!  Random cat photos because it feels weird to do a post without pictures.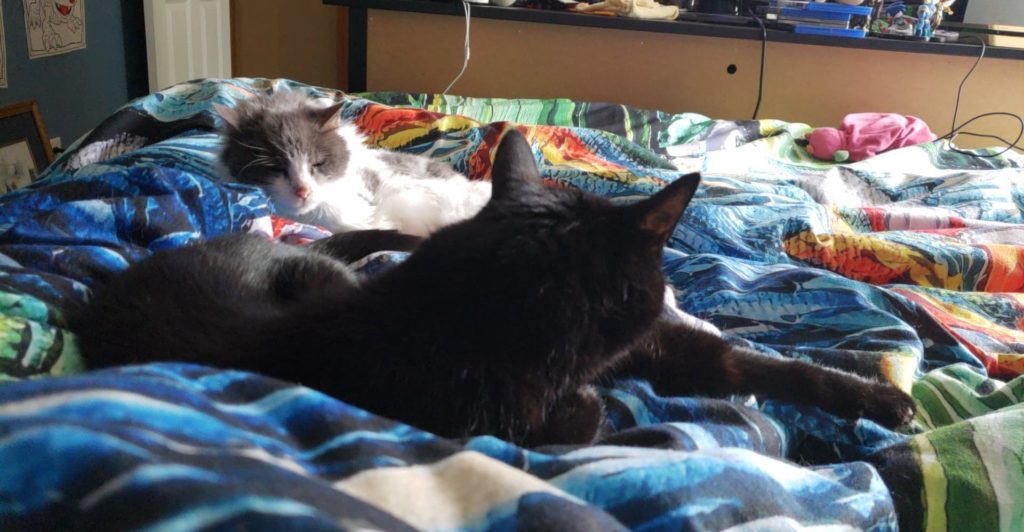 This morning we woke to cat poop in the entryway and pee in several random spots on the carpet.  We think its Ziggy.  I have a feeling it's time to get her in to the vet… again, though I'm not sure if there's anything actually wrong with her aside from old age and possibly some dementia.  The poor old gal wanders the house in the wee hours of the morning yowling and though she has a decent appetite, she's definitely thinner than she used to be.  We already have one geriatric cat with diabetes… so I really hope we're not looking at another potentially expensive kitty illness.  Despite the fact that she's moving slower these days and might have other issues, her eyes are bright and she still has a big rumbling purr.
Between the cats and kids and other stressors, I suppose it really is no surprise that I've been feeling mentally worn out.
Gross… I think I need to get my wedding ring cleaned.  Also, my contact is bothering me so hopefully I have solution so I can go and try and clean it off or something.
I think I might have too many distractions and also trouble prioritizing my life.  Maybe I should start scheduling my life in 15 minute increments.  Maybe I'd get more done.   I also need motivation. It comes and goes in spurts.  That sounds dirty.  Truly, though… one minute I'm ready to bust ass doing all the things, and the next I don't even have motivation to make food.
Apparently the point of these exercises to establish what motivates me to get out of bed in the morning.  I can't say I've thought about it much, but right now my main motivation to get out of bed is cats and kids because they all want feeding and sometimes the idea of a warm cup of coffee and a book on the weekend.  That doesn't exactly seem like much… I'd better think more on this.