The dinosaurs are back at the Minnesota Zoo and this year we decided to walk through with the kids. It costs extra, and I'm still not sure if it's quite worth the extra cost. I think if it was just Josh and I we would have felt it had been a waste, but the kids seemed to enjoy it and watching their reactions was worth it.
Enzo was stoked when we saw the first dinosaurs, but then his focus became more about seeing a T-Rex and only a T-Rex. We had a hard time getting him to slow down and not skipping everything in between. Phoebe took some warming up. We had to convince her that the dinosaurs were not in fact real, but because they were animatronic she didn't quite believe us at first.
If it hadn't been for the baby dinosaurs, I think Josh might have had to carry her the whole way through, but as soon as I saw one, she scampered over and was all, "Ahhh, cute!"
There was Jurassic Park music in the background and various facts along the trail that we didn't really have time to read because… kids, but it was fun to walk through and not overly crowded or hot thanks to shade here and there.
Once we finally made it to the T-Rex, Enzo was excited for about 5 seconds while Phoebe jumped into Josh's arms and had to once again be convinced that she wasn't going to get eaten or anything.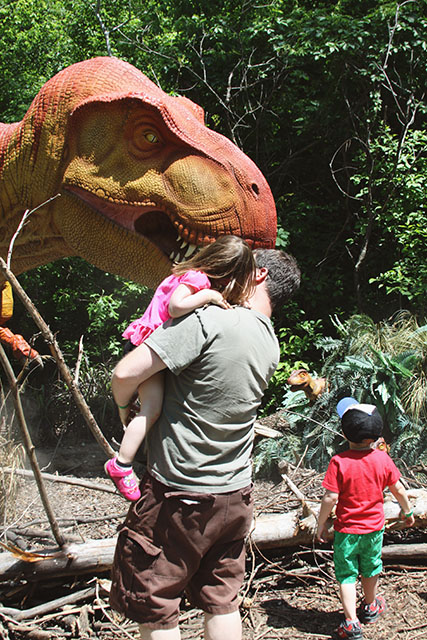 By far the kids favorite part of the dinosaur exhibit was the end wherein they got to crawl in big dinosaur eggs and we all got Icees because it was so hot out. So, all in all the kids gave the dinosaurs exhibit a thumbs up, but more so for the Icees.