I was fairly desperate to get out of the house this past weekend, so on Sunday we randomly decided to go to a nearby apple orchard.  We were a little on the fence because it cost money to get in and it looked like rain, but we decided what the heck and went anyway.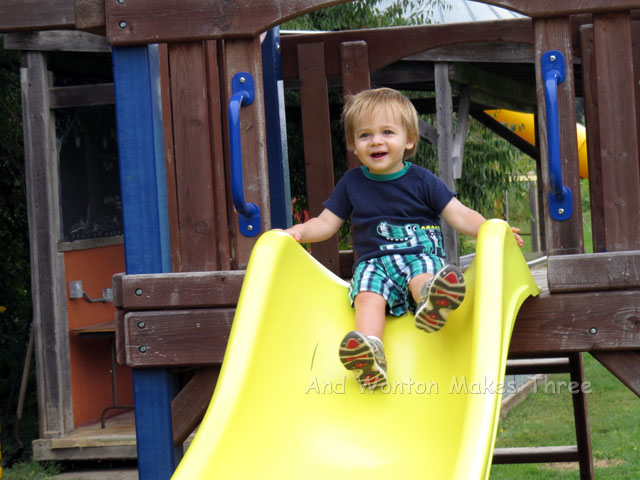 We did some walking around and Enzo was very pleased to find they had a great play area for kids, including a nice sized slide that he had to check out first, and of course go face first down… no pictures of that because I ran over to make sure he didn't end up face planting since Josh was watching the ladder on the other side since Enzo is fearless and thinks he can do anything… by himself.
There was lots of grass and hills and even a corn maze, which we didn't do because the stroller never would have made it.  They also had some goats and sheep, a miniature pony, a bunny and a calf, but Enzo was far more interested in just running. His eyes lit up at all of the grass and how much room there was to just run.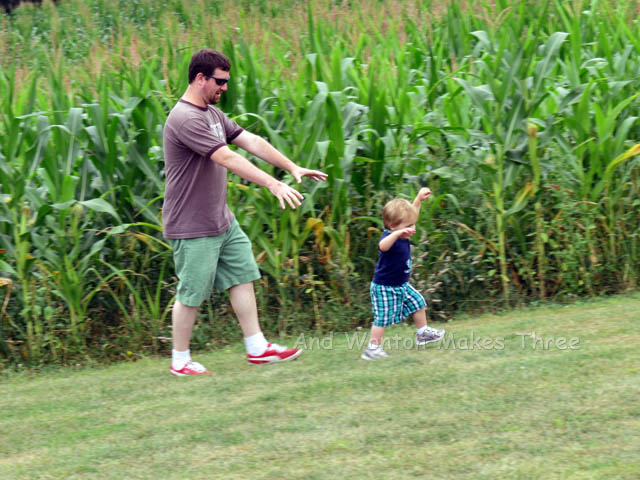 The orchard has a small grill, so we walked back through the orchard and had lunch and checked out the gift shop before deciding to go on a hay ride.  I wasn't sure if Enzo would enjoy it or not, but he smiled as soon as we set him down the hay and he took everything in.  I wasn't sure if he'd be ready for little kid rides since he doesn't always like to sit still, but maybe this means he's ready?  Only one way to find out.  We were going to have him go on the tiny 'Apple Express' ride after more play time, but as soon as we got off the hay ride, the rain started up and we figured it was time to get going.
Was it worth $12?  I'm not so sure about that… maybe on a day where there is no rain.  There was supposed to be a classic car show going on , but we must have gotten there too early for it.  Enzo definitely enjoyed himself, though, so we'll have to try out a few other orchards this Fall I think.