I'd say our back deck is finally complete – we have a table and chairs that is big enough for two and still leaves ample room for my experimental container garden, our grill, and sunning space for the cats.
Granted, it's been so hot the past few days we haven't really used it yet. Let's hope for good weekend weather so we can actually break it in! I'm looking forward to drinking my morning coffee out there this weekend while watching the corn field.
Things I've learned about container gardening: I need bigger containers!  I am thrilled at the first sighting of peas, though, and our carrots are getting bigger by the day it seems, as well as the tomatoes and onions.
Now, I just have to wait patiently for the jalapenos and straweberries. We had one berry, but nothing since, though the strawberry plants are growing like crazy. We also discovered that if you let brocolli flower it's really quite pretty, which was a nice surprise and lessened the blow that we missed harvesting time.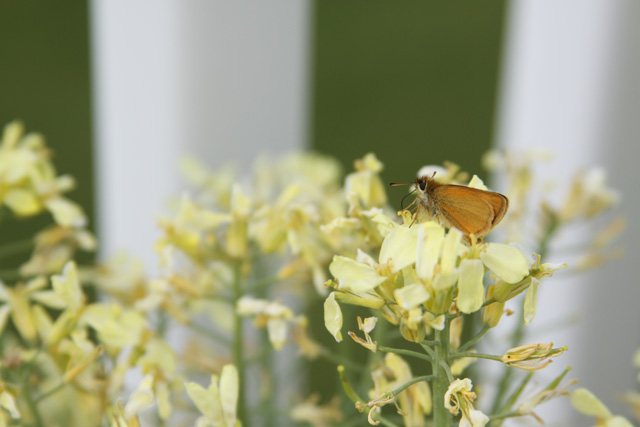 I also didn't realize that spinach would flower… I thought it would be a bit more like lettuce, so for next year I'm going to do more research and actually learn a bit more about everything we're growing. It's been a lot of fun eating our own lettuce, though, and all of my flowers are really taking off, so I'd say our garden so far has been a success and next year it shall be even more glorious!