When planning our mini-moon, we knew we would need something to do after we checked out of the Nordic Inn, so we decided that Paul Bunyan Land and This Old Farm Pioneer Village (conveniently located within PBL) in Brainerd, MN would be the perfect way to spend a few hours. We weren't disappointed. This Old Farm had dozens of building, and each was one packed with antiques of every sort – a veritble plethora. There were cars, creepy dolls, printing machines, cameras, clocks, farm equipment, lunchboxes, some of the biggest lures I've ever seen in my life, Avon collections, gas pumps, and more!
One of the first things you see as you walk into Paul Bunyan Land, is Paul Bunyan, himself, who greeted Josh immediately and commented on his awesome green shoes, (You have the option to give your name while purchasing tickets). After chatting with good 'ole Paul, we began wandering around. There was a small petting zoo where most of the animals ignored us aside from some ponies and a very friendly goat, so we gave up a quarter to give out treats and then went to check out the animated whatchamacallums – you put in a quarter and figures come to life while a jolly sounding mountain man tells you a little bit about Paul and Babe.
We decided to ride the ferris wheel, and scope out the lay of the land and as we savored our delicious frozen treats, we decided to go on all of the rides. Have I mentioned I've never done bumper cars?  Well, I finally got to and had bruises to prove it, or was that from the roller coaster that we barely fit into? I advise padding either way.
I imagine the park isn't always so low on staff, but we found ourselves wandering into "rides" a few times without attendants when perhaps we should have waited?  The haunted house proved to be a tricky endeavor as it was incredibly dark as we felt our way along walls and tried not to fall down steps before exiting out what could only be the wrong door, however, had we not, we might have completely missed the park dinosaurs. The beasts, though timid, were quick to show their curiousity and luckily we managed to make a quick exit before Josh lost an arm… or his head.
Overall, we had a fun time – I recommend you go when you feel like indulging your inner child, otherwise you may not enjoy it as much – we explored, we laughed, we bought souvinirs (we now both have very stylish PBL hoodies) and then we headed onward to Pirate's Cove for some miniature golf and go-cart action.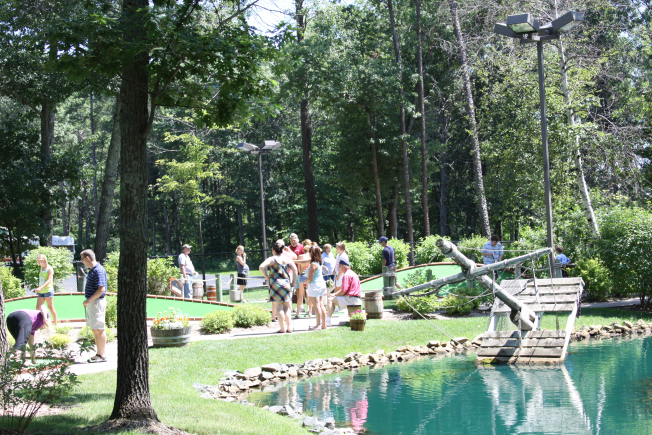 I was actually a little suprised at just how busy Pirate's Cove was for a Monday, but as we were in no hurry, we had no problems with the waiting. There was plenty to look at in between holes and shady benches to sit on. There were 2 different courses to choose from, one of which leads you through a pirate's ship, but we chose the other route that led us past a waterfall and cannons that shot water out at unsuspecting passersby. While the holes weren't tremendously difficult, there were a few tricky shots, but I managed to get a hole in one, which allows you to spin a wheel at the end. I'm assuming you win a prize if you land on the right number, but I was one off, so we'll just have to imagine what we might have won. It was then off to race Go-Carts and then we headed towards to our next destination – The Whistlestop Bed & Breakfast in New York Mills.
To be continued…