We finally got out yesterday and went to see a movie, and I will just start by saying that 'Skyfall' was pretty much awesome.  Josh felt it was a little long at times since they started with so much action and then kind of slowed down for a while, and I can see that, but even then we still both enjoyed it.
The month of November is well underway and Enzo continues to grow and explore. We started giving him a sippy cup with dinner, and he has been very into that… I think more because it's soft and feels good on his gums when he chews it, but that's okay.  He's had a few sips of water and will most likely be a pro in no time.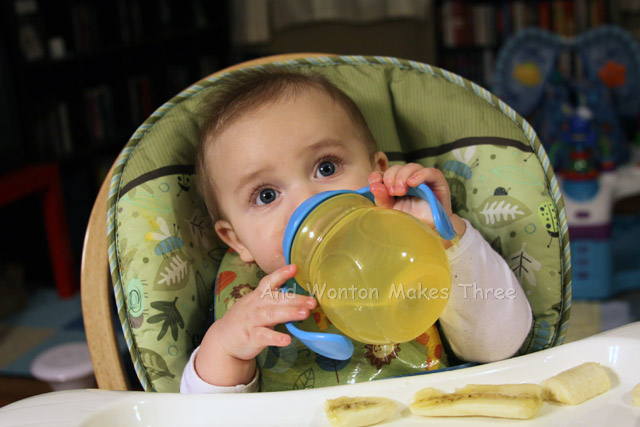 Enzo has also decided he doesn't mind a spoon so much, and has been getting better with one, so we've decided to start doing some breakfast in the mornings, so he had oatmeal and some homemade applesauce (just apples and a dash of cinnamon) mixed in, which he ate a ton of.  I'm wondering if we have a growth spurt on our hands. We do still like to give him larger pieces of food to try and experiment with as well, though, like banana and sweet potato sticks and we tried some carrots too.
We also picked up a small pumpkin, so I'm going to bake that tomorrow and give him some chunks, but then probably do a thick puree of the rest and throw in some nutmeg and stuff to see if he likes his own version of pumpkin pie.
In other events, our little man is on the verge of crawling.  He's sooo close!  It's fun to watch him scoot around on his belly until he gets frustrated he isn't going places fast enough.  He was going after the cat this morning, which serves as really good motivation for crawling.  I imagine it's only a matter of time, so baby gates are going to get pulled out and now we just have to figure out how to baby proof the rest of the house. :p