This year we realized we hadn't been to the State Fair since before Phoebe was born, so I figured it was time we gave it another try.  There's nothing wrong with the State Fair, it's just usually very hot and very crowded and neither of those things are our favorite. The kids were excited at the prospect and I was looking forward to some tasty food, so we figured it was a win/win.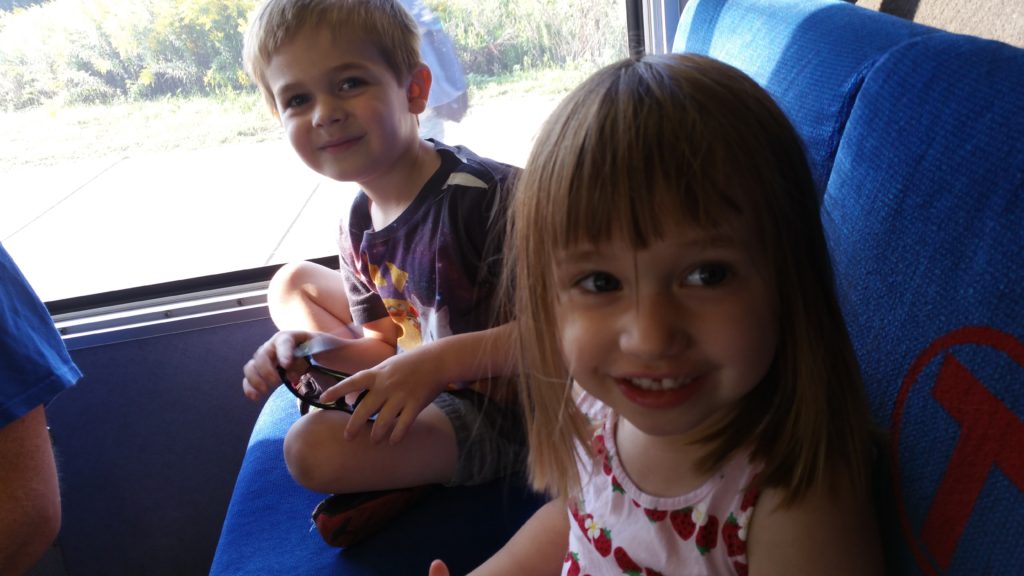 The kids were thrilled when we decided to take a bus. It's absolutely the little things. Our day started off slightly rough, however, when we arrived at the Fair only to realize that neither of us had grabbed the tickets, our coupon book or ride tickets (all pre-paid and therefore much cheaper).  SIGH.  Oh well.  We got in line, got our tickets and since the kids were already starving, got cookies because there's no other way to start the day.  The kids were really only interested in ice cream and rides, so we made our way there.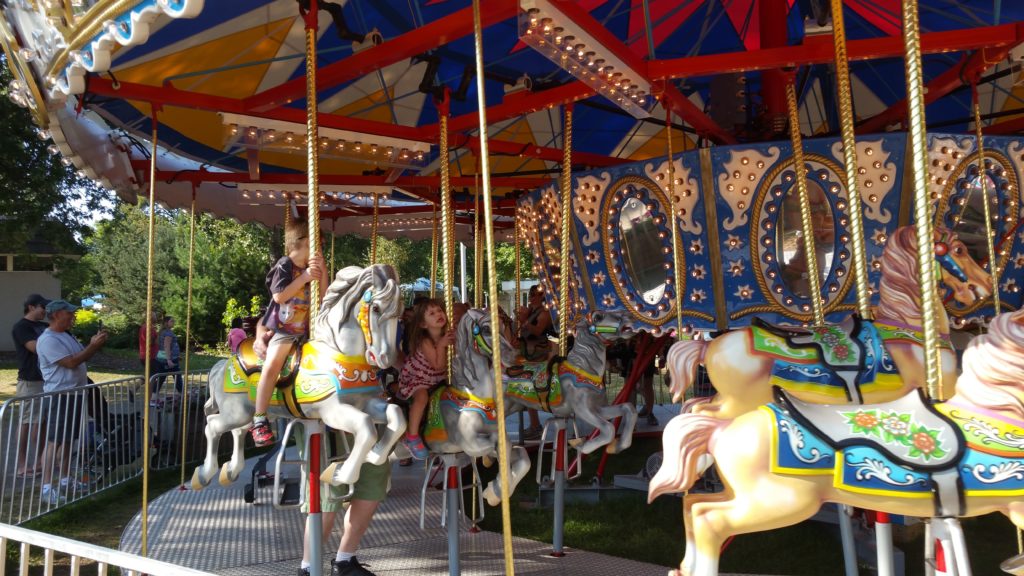 For some reason, Phoebe was only a fan of the rides if they weren't moving.  As you can see from the picture above… let's zoom in a tad… she didn't fully enjoy the rides, which is odd because she had a blast the last time we went to a carnival.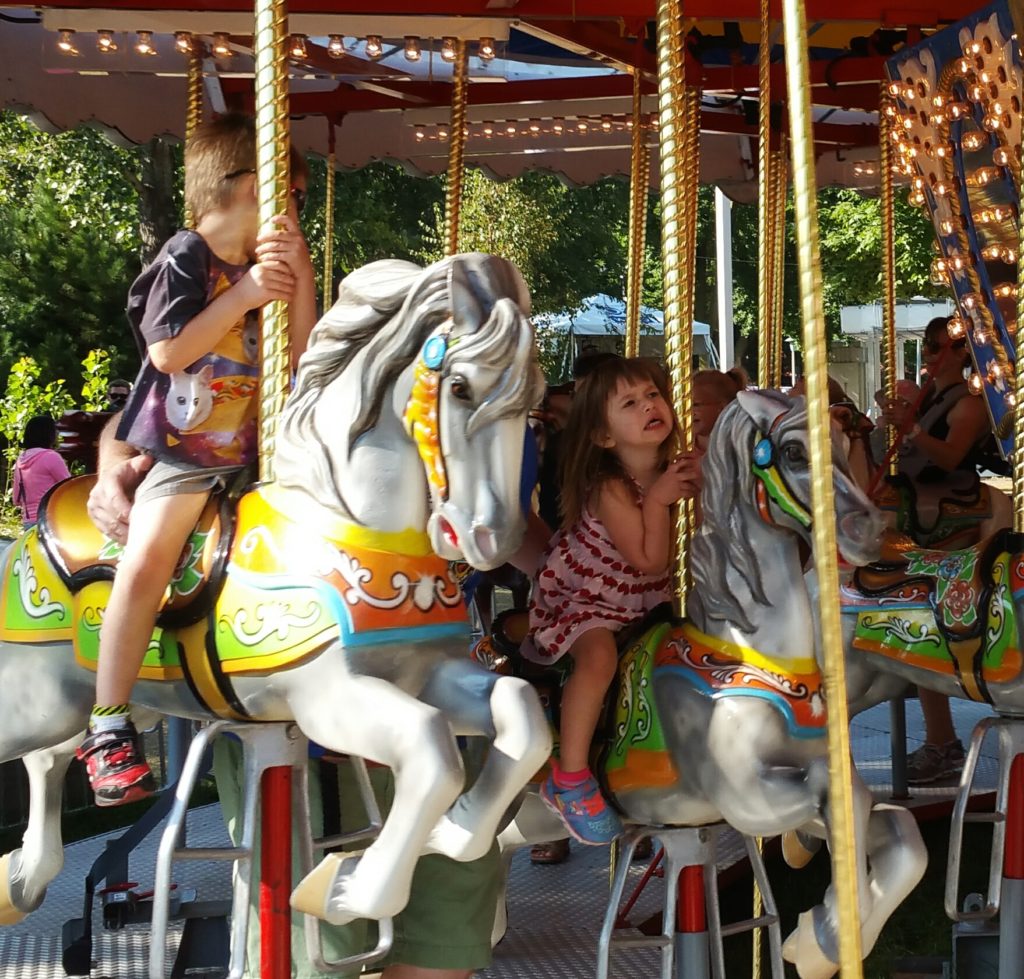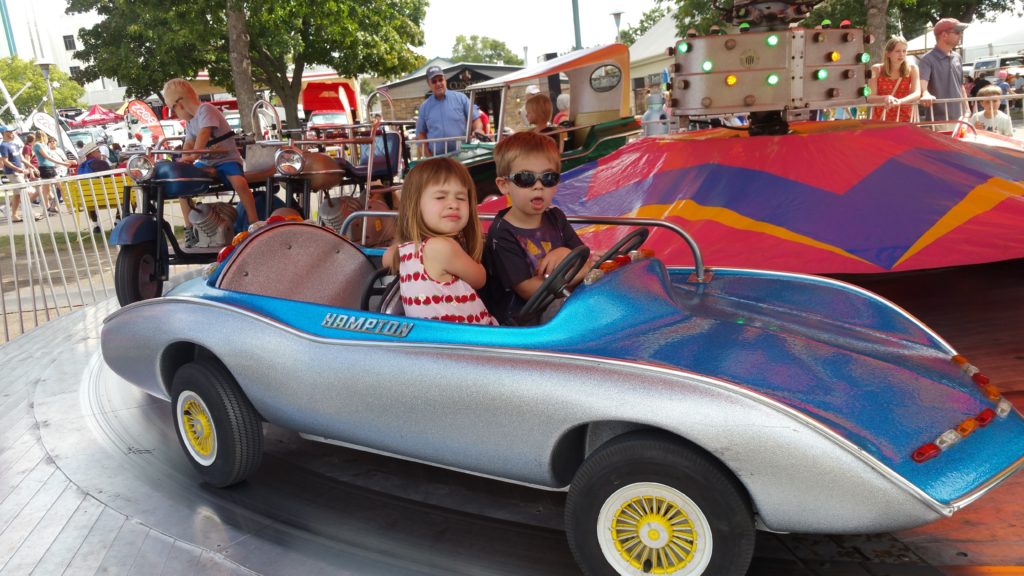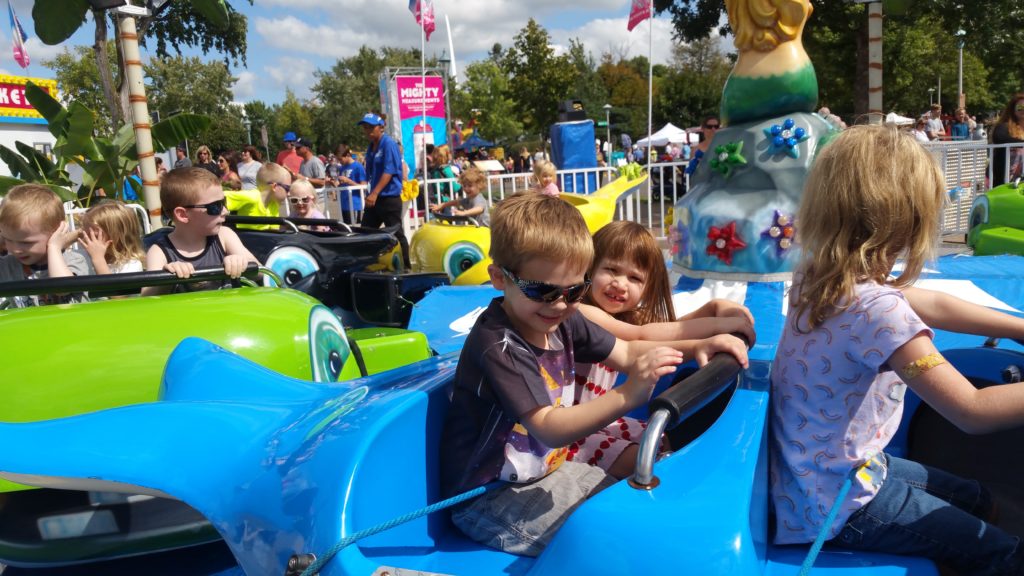 We did at least manage to talk her out of the mini Ferris Wheel, which we knew would freak her out.  Instead, Enzo had a fun time riding it by himself. He'd try to look as stoic as possible and not acknowledge us and then you'd see him fighting back a smile when we'd wave and make faces at him.
We did get the kids to go to a few other things here and there and we continued to snack on things like cheese curds and deep-fried Tacos.  We each had a beer and were glad we went on a Friday rather than a weekend. It was still busy, but definitely not has bad as on a Saturday or Sunday.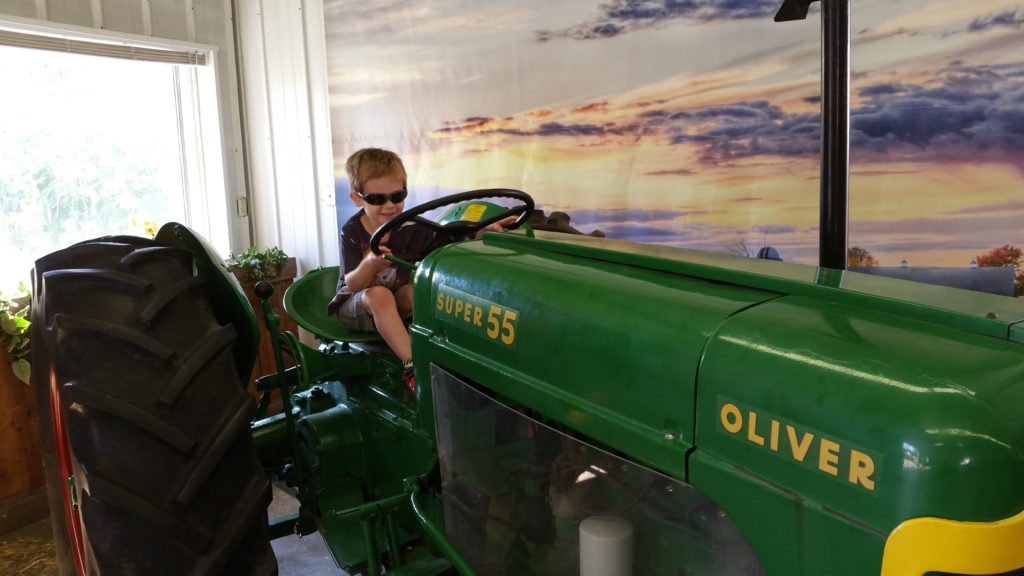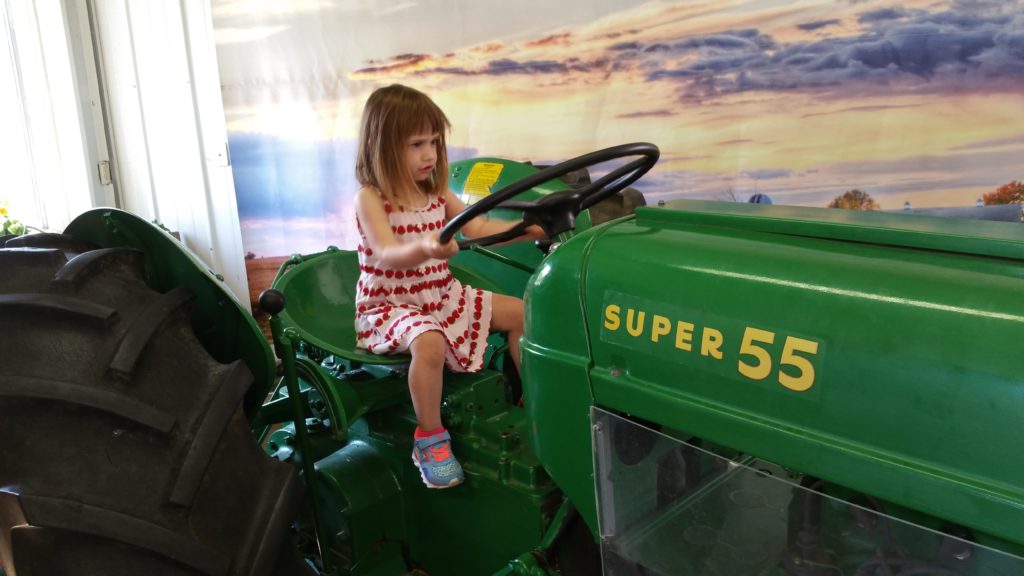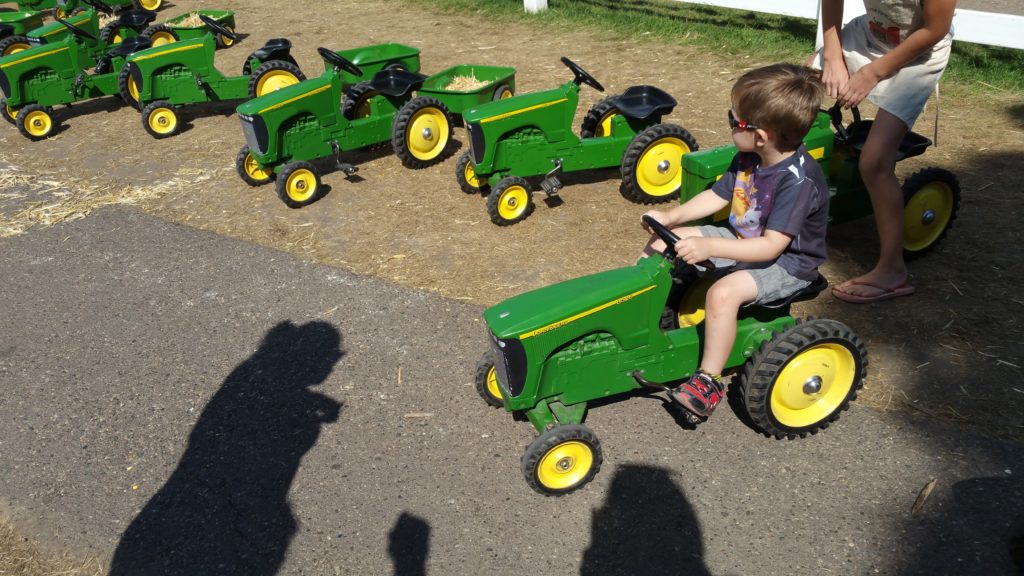 We decided to just bring one stroller and the carrier this time, and it worked out really well.  Enzo rode in the stroller for a bit and Phoebe at one point very happily napped in the carrier on my back for at least an hour. The weather could not have been more perfect and no one got too hot, which was a surprise for this time of year.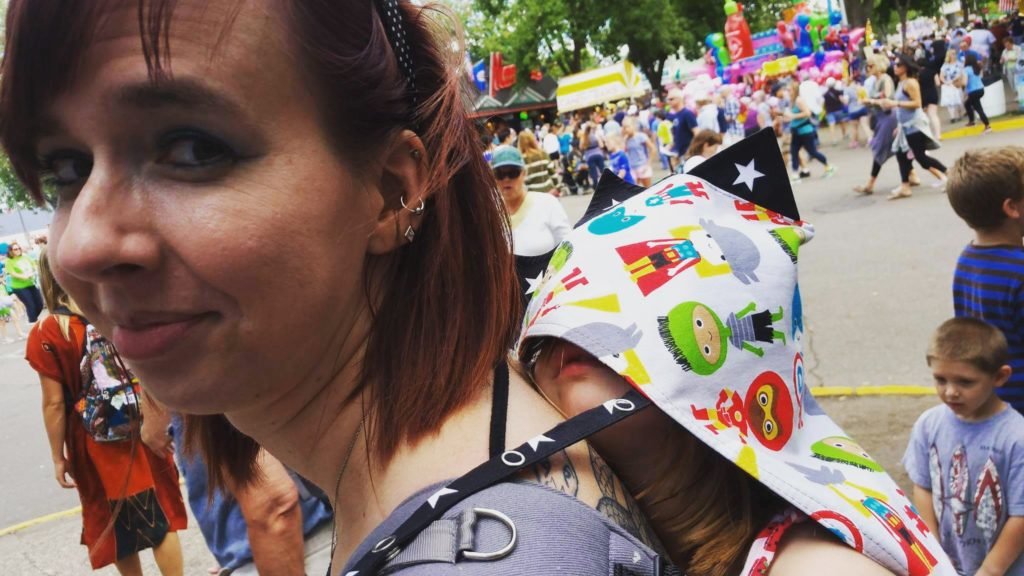 Overall it was a fun and exhausting day.  We had some hits and misses with food – the maple glazed bacon donut sliders were a sad let-down, and now I want to make the version I had pictured in my head – but the bunnies and babies never let us down. The kids did great with all of the walking and being out and about all day.  I think they could have kept going, but by late afternoon, Josh and I were DONE.  We probably won't go every year, but it's fun to go to every 2-3 years – maybe more frequently once the kids are older and don't have to be carried around. 😉