January is already more than halfway over… but I'm not going to dwell on that. Plenty of time to get things done, feel accomplished and all of that good stuff and dip my toes back into blogging because it's the only form of journaling/record keeping I was ever semi-consistent with and call me crazy, but I enjoy looking back.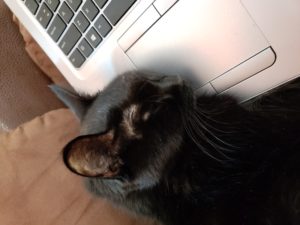 Reading… Welcome to Night Vale
I'm thinking maybe one needs to have listened to the podcast first to actually make sense of it?
Watching (on TV)… Outlander, This Is Us
Playing… A handful of games… I never finish anything quickly… except books.
Inspired by… Music and dance
Needing/Wanting… At least one or two more hours in the day… or you know, the lottery would be nice since that would definitely afford me more time.
Listening to… Random Spotify playlists. I've been jumping around a lot trying to find just what I'm in the mood for. I will literally listen to instrumental/classicial, metal, pop, rap, etc. all in the same day. So… that.
Drinking… More water and working on cutting back on caffeine. I think I just got into a habit of drinking coffee because it's warm and comforting, but I really need more water.
Eating… Healthier, or at least making more of an effort to. With our schedules so busy, we definitely let ourselves fall into bad eating patterns and I'm making an effort to plan meals again and try and get our picky eaters to branch out more. Working full time, longish commutes and after school activities really make it hard most nights, so time to set some new routines.
Planning… Summer vacation!
Creating… Lots of lists of all the things I need/want to do.
Practicing… Flexibility and graceful movement. Though I feel like I must have been a dancer in another lifetime, what I see and feel in my head does not always translate to this body! Ha!
Trying… To add more beneficial habits to my life while shedding the ones that don't serve me. It's all too easy for me to curl up in a ball and read or watch tv, so I'm pushing myself harder to deal with the cold and warm up by being active with reading and a glass of wine as a reward.
Looking forward to… A date night with Josh. I scored some sweet free tickets to a hockey game and we're going to go try a new to us place to eat and drink beforehand.
Enjoying… A little extra freedom with my days/evenings to go to more pole classes but also try new things. I'm pushing myself more than I used to and really stepping out of my comfort zone a lot. My introverted nature balks sometimes, but that tiny extroverted piece of my soul has been reveling in all of the fun and adventures I didn't allow her to have for so many years.
Feeling… Slightly overwhelmed and anxious, yet also excited and hopeful.