I have been ridiculously productive lately and it's kind of glorious. Did you know painting really isn't all that bad? Okay, I'm not a perfect painter and the guest room really needs one more coat of paint (but I ran out and meh), but I love how much brighter it is in there now.  Granted, mostly it'll be used for work, but now it makes me want to repaint everything downstairs… especially the cave where my actual office resides.  The previous owners really, really loved dark colors, which also means it takes like 3-4 coats of paint to cover up.  I've been moving things around and making lists of other projects around the house which means I've taken hardly any pictures.  I think that also just means I've been enjoying our downtime and haven't felt the need to document. Maybe I'm just at a new point in my life.
Phoebe is pretty happy with allowing me to take pictures, but Enzo has decided he mostly wants no pictures taken, so there you go.  I'm not going to fight him on that (until our family photos next month).  I don't really see things slowing down in the future, so most likely I won't be posting as often either… or perhaps they'll just be short snippets so I can continue to keep track of what's happening.
I never thought I'd say that I wish these kids would stop growing so fast, but lately I don't mind as much.  Enzo's imagination gets bigger and bigger and Phoebe is right behind him. Their personalities are fantastic and not a day goes by that one of them doesn't say or do something that makes us laugh either because it's just plain funny or ridiculously clever.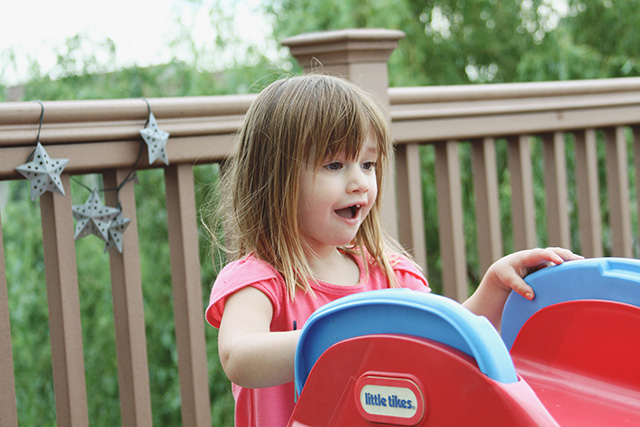 Phoebe is my go-to for hanging out still. If the boys don't want to go anywhere on the weekend, chances are good that Phoebe will want to come with. She always wants to go shopping and will often respond with, "Goin' to Target?"  Why, yes, yes we are.  Don't even think about going to Target without looking in her section, though. I wasn't allowed to look at cute tops when we were there, but you better believe she was adamant that we stop in the Toddler area. Granted, she'll happily look in every section and likes to hit EVERY aisle.  We're probably going to need to discuss budgeting sooner rather than later with her.
This photo is out of focus, but I love it because it's just so HER.
On that note, I'm off… to the Cat Video Festival, no less.  I'll be Snapchatting (@dinosandbunnies) periodically if you want to check it out.