Happy Monday!
Linking up with Meghan from Clean Eats, Fast Feets for another Week in Review!
WEEK IN REVIEW (in no particular order)
Random occurrences and accomplishments.
Work, work, work. As usual, amiright?
I made yummy mac and cheese and even did some meal planning! Only to realize I forgot to cancel the week's Blue Apron, which threw off my plan.  Good intentions, right?
Started working on getting Phoebe to fall asleep on her own. I still lay down with her, but I've started getting up as she's drifting off. I'm hopeful that eventually she'll just stay in her bed when I leave her room… at least until around 10:00-11:00 when she's ready to come sleep with us. I keep telling myself it'll happen eventually – I mean Enzo sleeps in his room all night now.
Went to a Raptor release over the weekend and to a local apple orchard for some apples. More on that later, but here are a few pictures…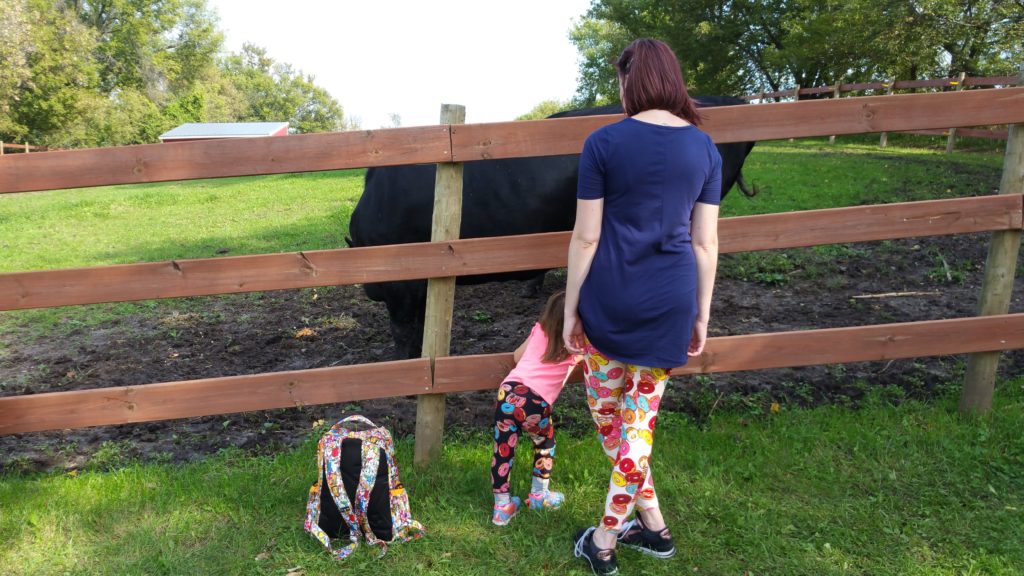 (The leggings we're wearing and my top are all from LuLaRoe if you need something cute and comfy to wear).
Watched too much TV thanks to the Fall season starting up.  Feeling kind of meh about most shows, though and think I'll be reading and watching older shows more often than I will watching new shows.  I did inform my husband I'll be unavailable for part of Thanksgiving weekend since Gilmore Girls will be airing.
And that's all I've got.  It's going to be a pretty busy week for me, so maybe I'll actually try and take more photos this time around. 😉
Happy Monday!