How is it possible that Enzo is 2 months old?  Time is flying by, and before we know it, I have a feeling this summer will be over. In just 2 months time, Enzo's personality has definitely started to come out, and I'm excited to see who he will become as he continues to grow.
I love to watch him as he discovers new things – like his hands and colors and shapes around him. He is curious and playful and when he isn't napping he has us wrapped around his tiny fingers. I think the cats are definitely starting to like him as well… just tonight we saw Uzi rubbing his head against Enzo's before he lay down next to him – of course he moved as soon as I grabbed the camera. 😉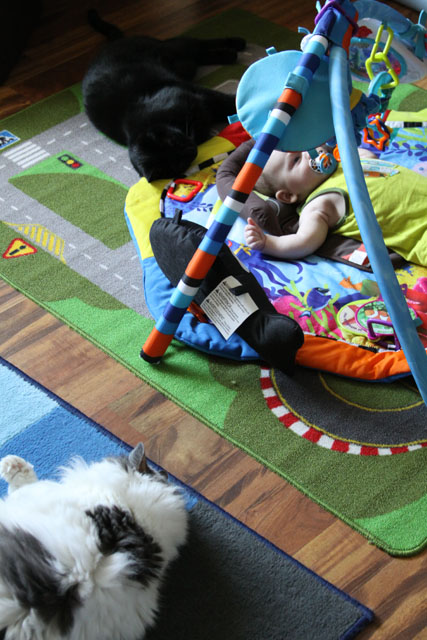 My favorite time with Enzo is in the mornings (especially on weekends when we actually have time to be lazy) because he seems to be a morning person like me. He usually has the biggest smiles for us once he wakes up and those smiles… oh those smiles. He's the sweetest baby.  Sure, he has his fussy moments, but  overall he seems to be a pretty mellow and happy baby.
And who can resist baby butt? Come on, it's adorable!!
He's also doing better with tummy time and I he's getting closer and closer to rolling over from back to front. He's not especially fond of tummy time, but he's so strong!  He can hold his own head up for good amounts of time and he's been trying to stand a lot.
I'm pretty much smitten with this little man, and his dad is pretty awesome too… quite unexpectedly he brought me these today!  He may or may not have been in the "dog house" and got these as a peace offering. All is well, though.  Babies make new parents tired and cranky sometimes. 😉