I think the one bad thing about having a baby in the winter is that it makes going outside even less desirable than usual.  It's easy enough to bundle up Phoebe with her warm car seat cover, but we also want to avoid exposing her to the many ickies that are making their rounds.  Thankfully she's just had normal baby congestion, but we need to get the humidifier on the furnace looked at as it isn't working and would make a huge difference if it was.  In the meantime, the kids and I stay inside a lot, and make Josh do lame Winter maintenance. 😉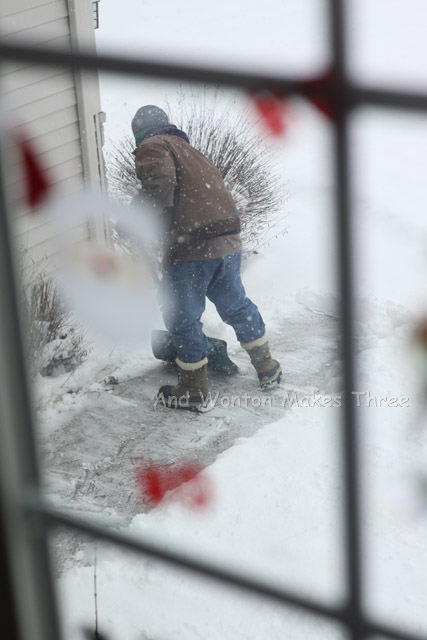 While Enzo's growing independence can be somewhat difficult at times, it's also great to see him more able to play on his own now. He spends more time in his bedroom, and he's really getting into his puzzles and reading.  Often at night he falls asleep reading after we've said "Night Night."  Keeping this in mind, we cracked open a reuseable sticker pad, and he's been enjoying it.  He doesn't fully understand that you can create scenes with the stickers, but loves to pull it out and generally wants to see the Choo-Choo page.
Mostly his creations end up being of tragic train crashes and carnage, but eventually that might change… or not, if he's his father's son. 😉
We're finally at a point where we've gotten the downstairs better arranged, so we'll move some of Enzo's bulkier toys down there that way there's more room to play and offer him a change of scenery during the winter months when we're indoors more.  Plus, Phoebe needs room for her bouncy chair and blanket and eventually other bulky infant toys that we'll have to split between the upstairs and down. If anything, Enzo will just be glad to see his kitties more often… too bad Ziggy is never excited to see him. Oh well, she'll have to learn.