I think we're finally on the mend here.  I'm on antibiotics for Bronchitis and don't quite feel like myself yet, and the baby has drops for his pink eye, but it sounds like his cold is getting better and Josh as well.  Plus the wonton slept all through the night so that was a massive improvement.
It seems like we chose the perfect time to start getting healthy, though.  We've been trying to improve what we eat for a while – ever since Enzo started solids, but now that he's really into finger foods, we've had to be a lot better about making meals and having healthy options on hand.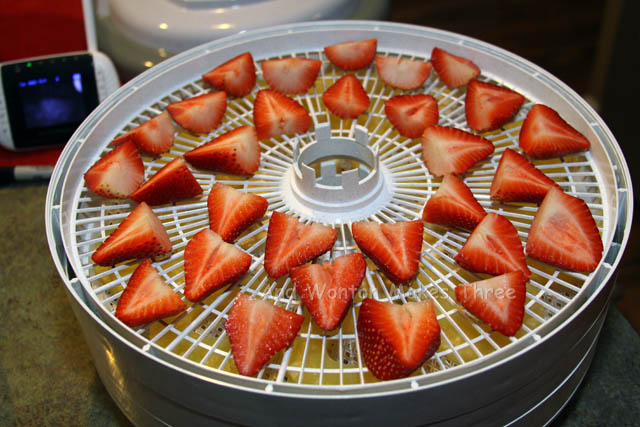 I'm really excited about the dehydrator I received as a gift.  We've used it on strawberries, pineapples, bananas and apples so far and it's fantastic, plus it makes the kitchen smell really good.
We've also hopped on the kale bandwagon and made our first batch of kale chips!  They really are very good, especially sprinkled with a little sea salt.
Most of all, I'm hoping Enzo will learn good eating habits from his parents, but I really want us to start feeling better as well.  It's so easy to come home from a long day of work and not eat a real meal and just snack or eat something frozen, but thankfully Enzo makes that harder to do since we aren't going to feed him that crap. In the long run, it'll be a good change.