Two weekends ago we decided to take the kids out of town to see a friend of Josh's get married.  We really had no expectations since we knew anything could happen on the kids' first hotel stay, and first long car ride.  The trip actually went much better than we had hoped all things considered, but we also didn't get that many photos either.
Thanks to the Kindle, the drive wasn't bad at all since Enzo was able to watch 'Frozen' and "Jack Frost" (aka 'Rise of the Guardians).  It was a 4.5 hour drive, so we stopped once to feed Phoebe and let Enzo run around a bit and the rest of the time he napped.  When Phoebe wasn't sleeping, she was happy just playing and looking around, although close to the end she did start to get more vocal, which was her way of showing us she wanted out.  Ha ha.
When we got to the hotel we were glad to see there was a microwave and a fridge (both really helpful with kids), but the AC didn't work all that well and as far as cleanliness goes… yeah, not really that great.  Both of the kids were in good spirits, however, and really just wanted to get all of the wiggles out.  We got to the hotel right before dinner, and decided to just order in since we figured neither kid would want to get back in the car again.
Not surprisingly, bedtime was pushed back a tad, but Phoebe went down with little difficulty. Rather than bringing the pack n' play we decided to just each sleep with on the of the kiddos and use pillows to keep them from rolling out. Enzo was thrilled to get to hang out with Daddy, and I only got feet in my back half the night. 😉  Unfortunately, though, Little Miss did not sleep the best and woke up early with a nasty cough, which also meant that everyone was up at 5:30.
We gave in and let Enzo watch TV, and despite the lack of sleep he was ready to run around.  We were the first at breakfast, which was helpful with the munchkins.  Enzo was all too happy to greet everyone as they came down to eat, but soon got a bit too rambunctious and Josh took him upstairs while I finished with Phoebe, who then decided it was time for a nap.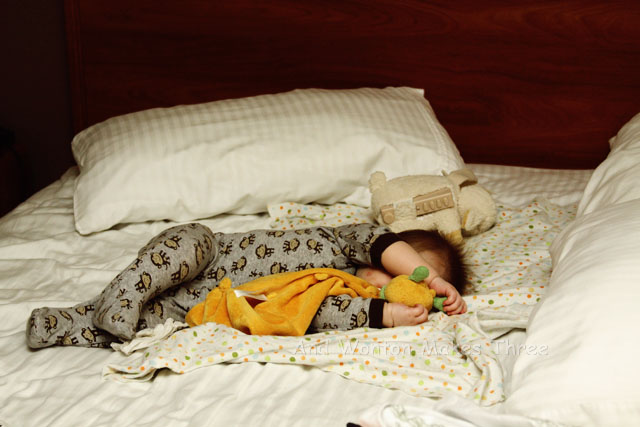 We had a few hours to get ready, and now that I think about it we probably should have planned to do more out of the hotel room, but with Phoebe needing bottles on a regular basis and eating mostly purees… the food part of things can be tricky.  We had a car bottle warmer and a thermos of hot water, but making bottles in the car and then feeding a very easily distracted baby is just not fun.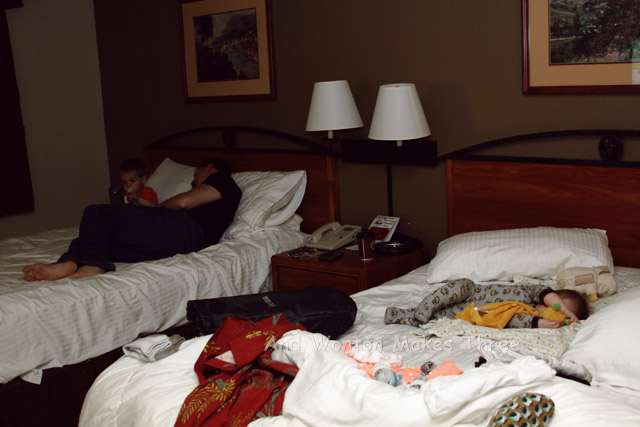 Thankfully the ceremony and reception was held in a nice location in a large park that had plenty to drive around and see, so we were hoping Enzo could get some wiggles out before the ceremony.
There were several other families out enjoying the day and Enzo desperately wanted to interact and play, but… how do I put it… most of the families were not there to interact with anyone else, so I told Enzo there would probably be other kids for him to play with at the wedding.  (Thankfully I was right).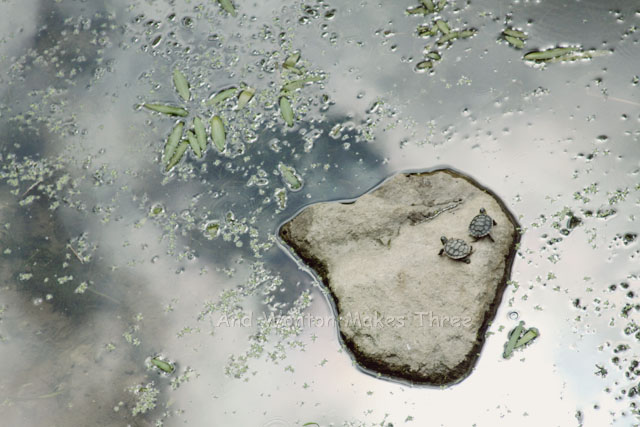 The wedding itself was lovely and Enzo had a ball. We were that family, though. You know the one – the one with the toddler running around and not really sitting still during the meal.  We knew we were toeing the line on a potential meltdown, though, since he was missing his nap and had been up early.  We did our best to keep him from getting in the way and just let him run around like a crazy toddler.  Phoebe was exhausted as well and literally fell asleep while I was feeding her, so she snoozed in the Ergo while I ate and Josh kept an eye on Enzo who was making friends left and right.
I think our first little road trip was a success, and we definitely know what we'll do the same and what we'll do differently next time around.  Honestly, it'll just be easier when Phoebe is eating more solids and we don't have to worry about bottles, so we probably won't do too many hotel stays until then, but really that's not that many months away.  I think we've got some good travelers in the making.