We (Josh and I) love road trips. He loves to drive, and I like to watch the scenery go by.  We are hoping the kids will also grow to love road trips in time. So, why did we decide to drive rather than fly?  The biggest reason is that it's just cheaper, but it was also a good excuse to get to see lots of family, if only for a brief amount of time. Next time, we'll probably simplify and shorten the journey, but for some reason we decided that we were going to go big and be gone for 16 days.  At the time, it didn't really seem like that big of a deal, until we got nearer the day and especially once the packing commenced.  I have never been a light packer, but even I thought I was doing pretty well for 16 days.  In reality?  I didn't wear everything I packed and absolutely could have packed fewer clothes. The bigger trouble always comes with all of the toiletries and stuff and hair dryers and everything takes up so much room.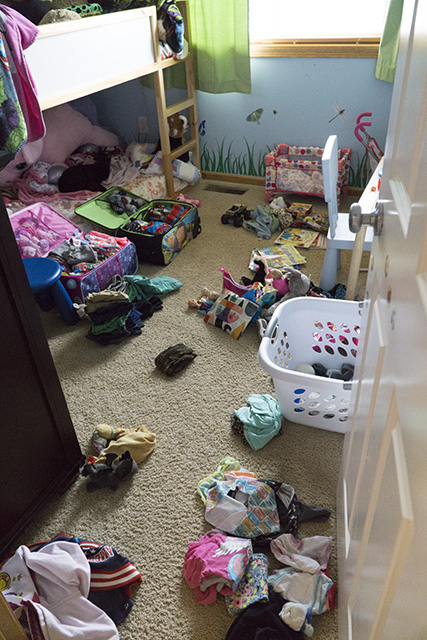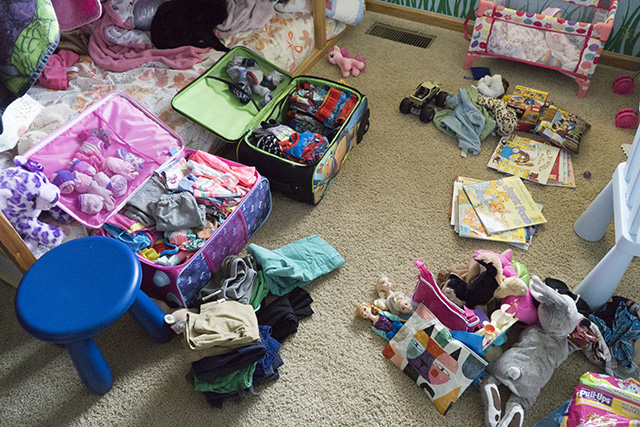 The kids each finally got their own suitcases and it seems like I just barely managed to fit all their clothes inside.  Once again, in hindsight, we could have done with less, so now we know for next time.
Okay… brace yourselves.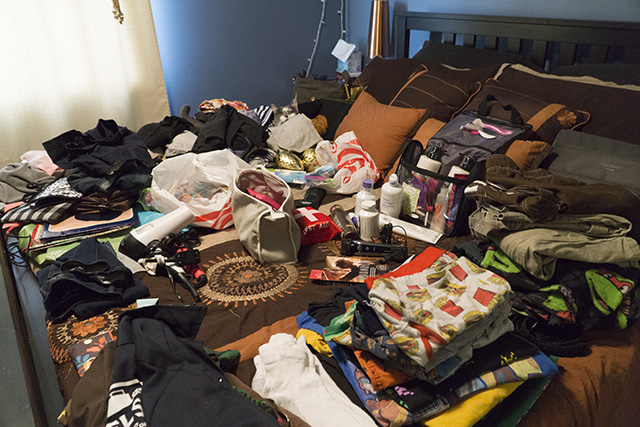 Notice Vega in the background trying to sneak in with all of our stuff?  Also… I apologize for closeups of all undergarments. Probably more than you want to know about us, but oh well. I like to document the massive amounts of craziness.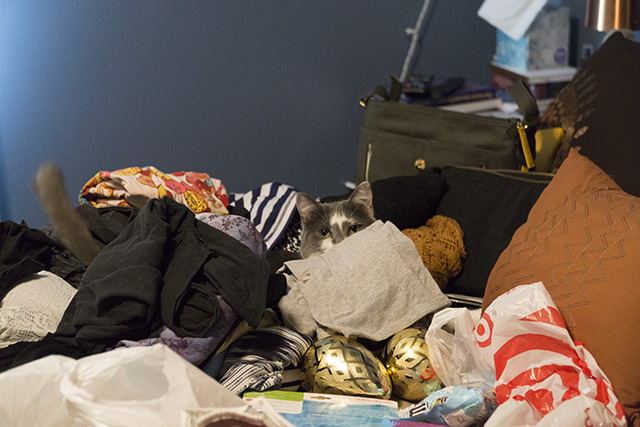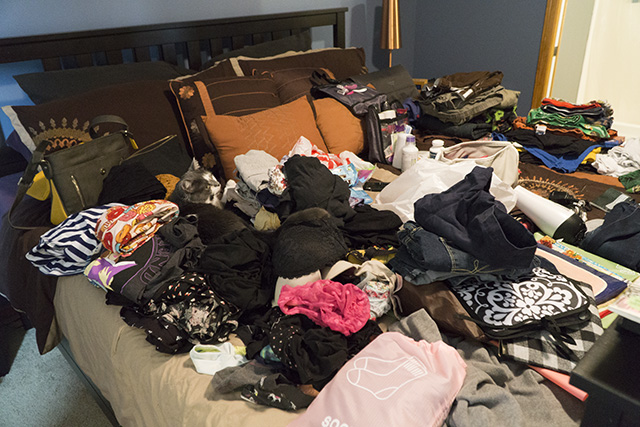 We also neglected to bring any emergency cold weather things like long-sleeve shirts, which we will do next time.  Whoops.
On to the fun!  I picked the kids up from day care around the usual time while Josh was napping (after the bed was packed up) and they were excited to get on the road. I finished packing our smaller cooler and the rest of the snacks and we were ready to drive overnight to Colorado Springs!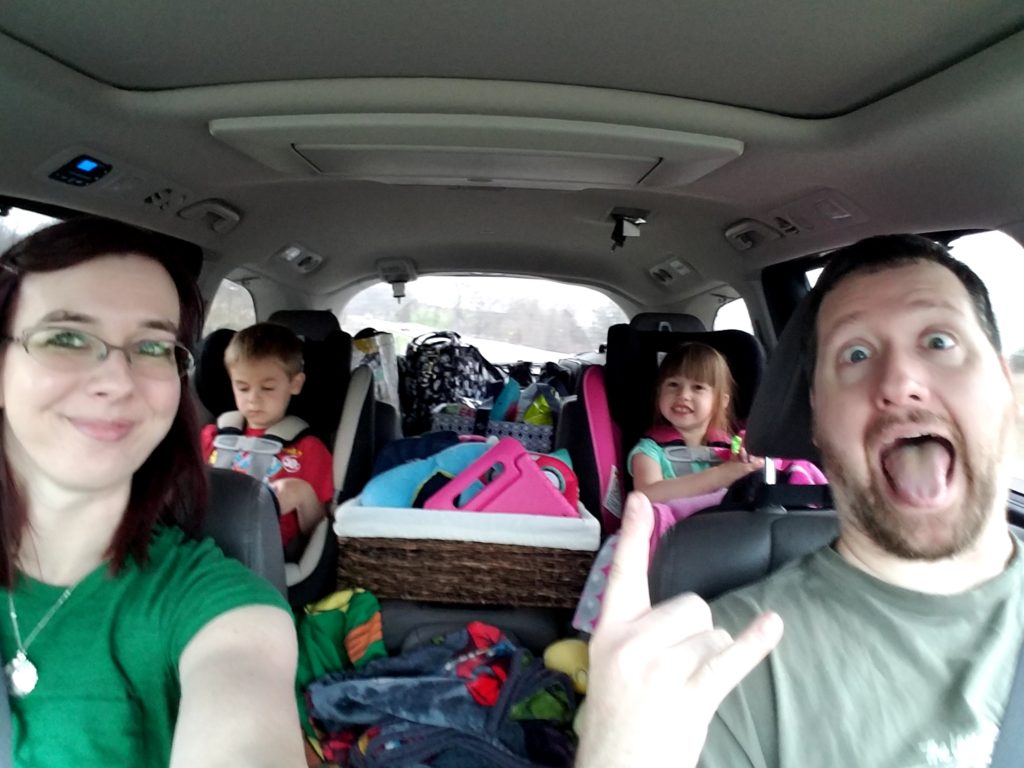 The first leg of our journey went really well.  The kids fell asleep a bit later than usual and work up earlier than usual and they wanted breakfast, so we stopped for food in the early hours and I texted my sister to let her know we were making awesome time, so we would find something to do in Colorado Springs until she was ready to meet us at their place.  So, we went to the Garden of the Gods, which is pretty awesome and perfect for small kids who need to stretch their legs.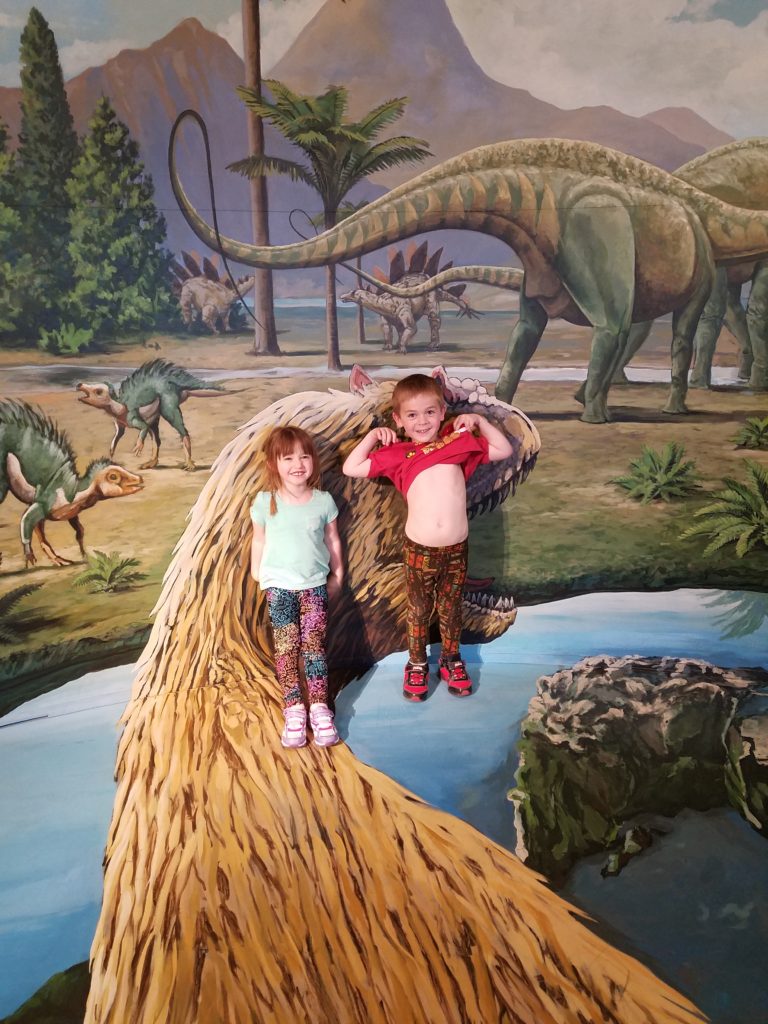 Not really sure why the shirt lifting started this trip… but there you go.
Their favorite part of this exhibit was guessing which poop belonged to which animal. I decided not to get photos of that. Also, right before this Josh had gotten off the phone with a local Midas because with the temperatures rising we discovered the AC in our van wasn't working. So, we would have to take it in and thankfully they said we get in the next day.  The kids were excited to see the family, so we headed over to my sister and brother-in-law's house and hung out for the rest of that day.
The next day since Scott had to work and Josh had to take the van in, we stayed close to home, which was fine with the kids since there was plenty to do. The pictures are all a blur and I can't remember which exact day we did what, but the kids were outside a lot.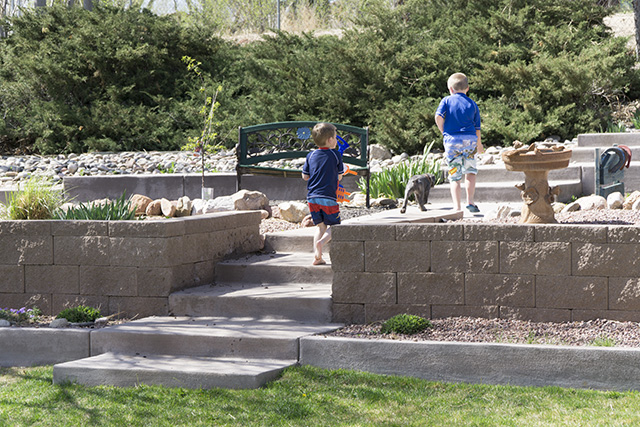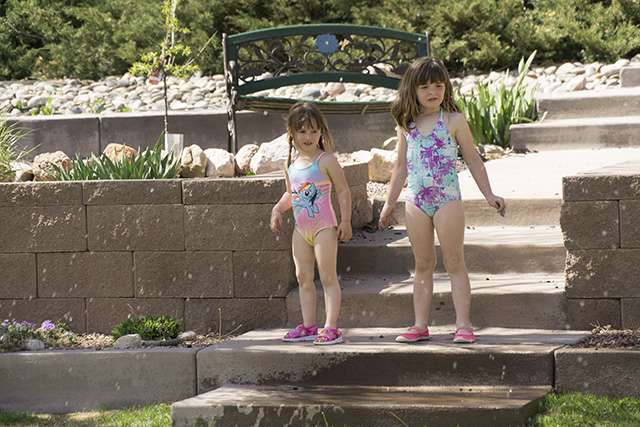 While we stayed cool, Josh drank beer and waited for the van to be done.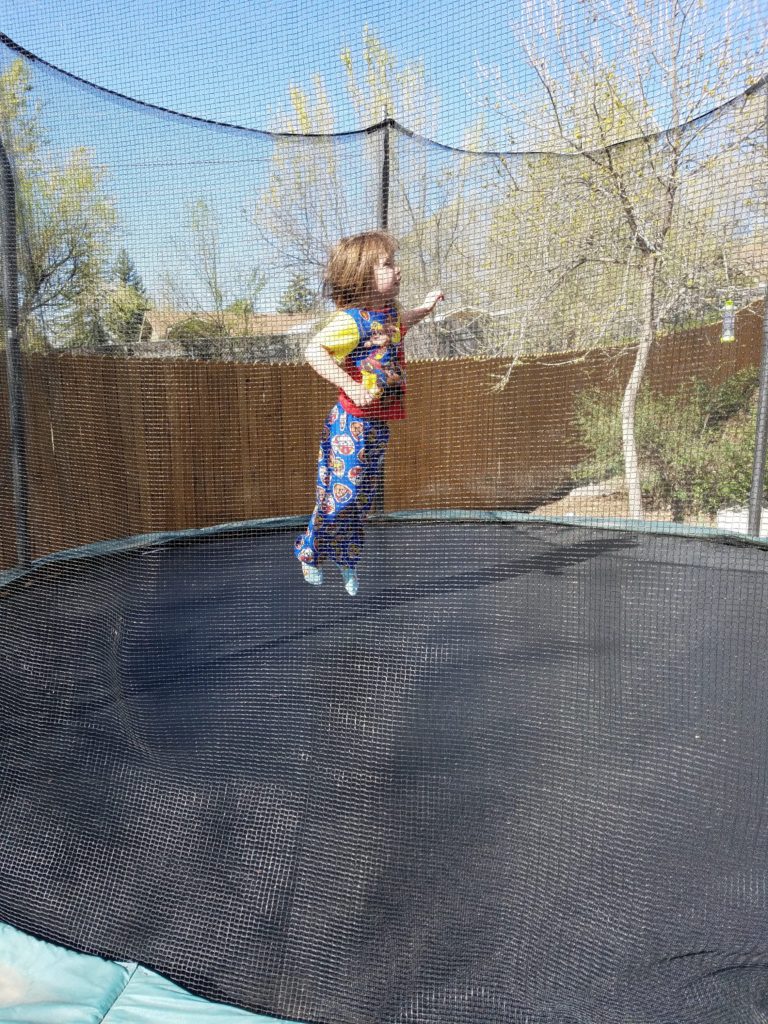 Phoebe was obsessed with the trampoline. I wish we had a yard that was better for one… alas, we'd get eaten alive by mosquitoes in our boggy backyard.
One of the highlights for the kids was going mini golfing for the first time. The place we went was perfect too because it wasn't too busy, so we could all take our time and the kids weren't in the way.  They had a blast!
Uncle Scott showed the kids how it's done.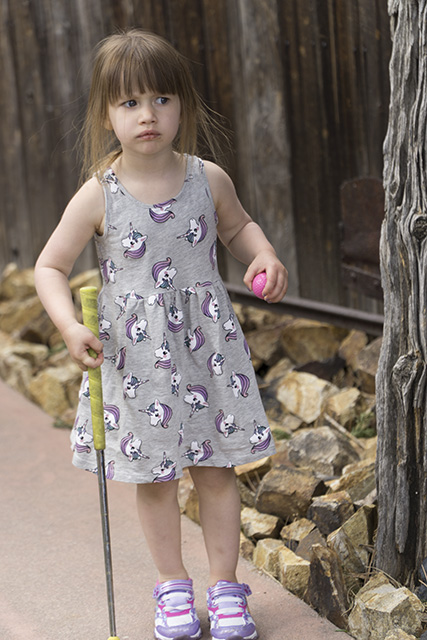 Haha, her face in this picture cracks me up!  She got frustrated occasionally, and then usually came to help give the adults holes-in-one. We weren't playing very seriously, so it was funny when she'd suddenly just decide out of the blue to "help" you with your ball.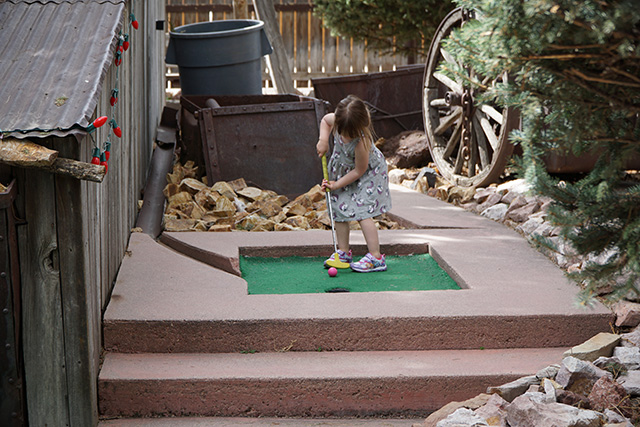 Me and my Sissy (Alisha).
Oh look, it's us!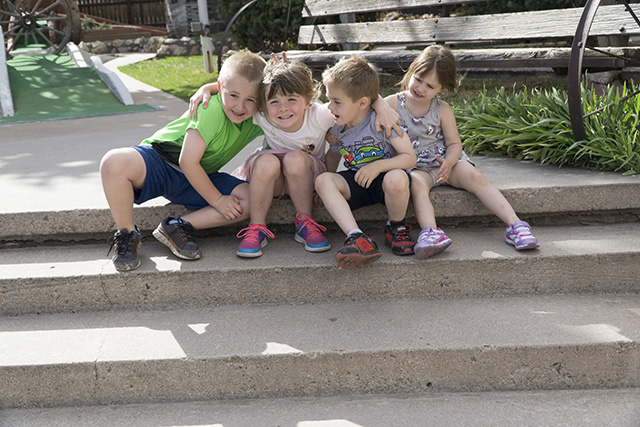 Cousins!
Ginger!
The next day started off with lots of fun and little surprises and then we went to Scott's parent's house who had very nicely set up some fun for the kiddos and fed us lunch even!  It was a really nice afternoon and the kids all had a blast.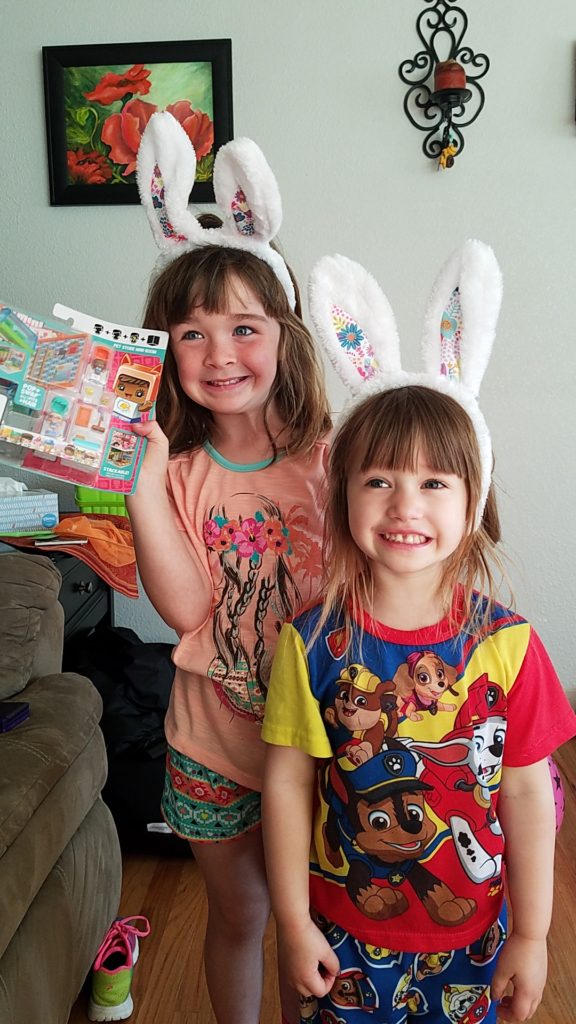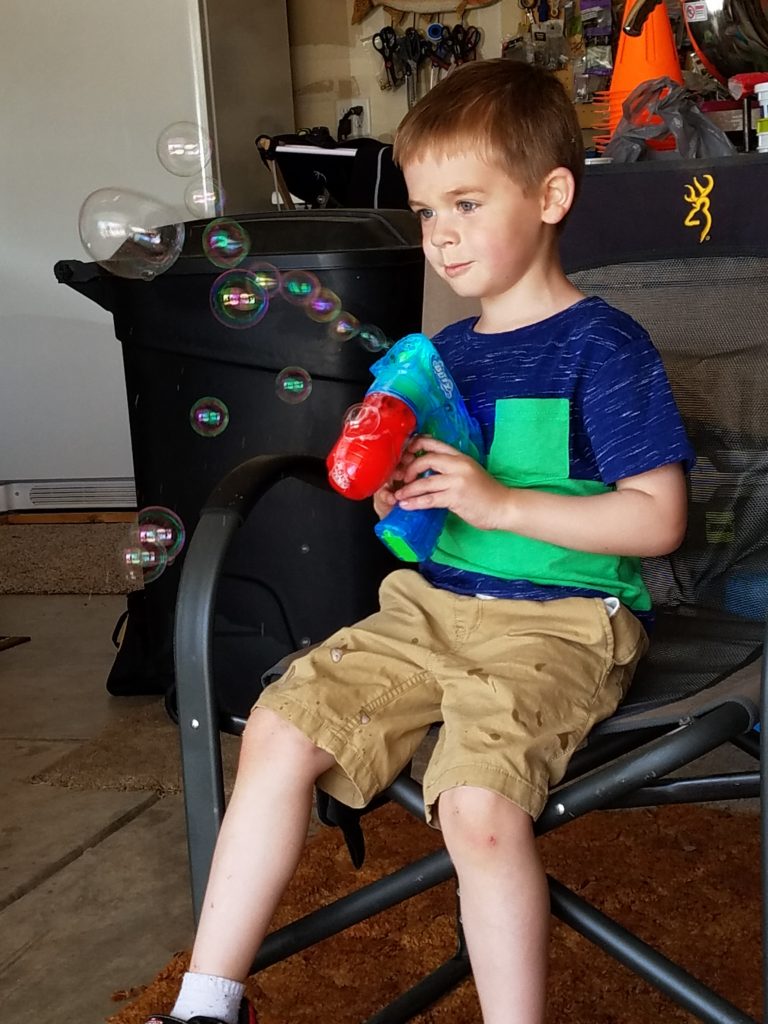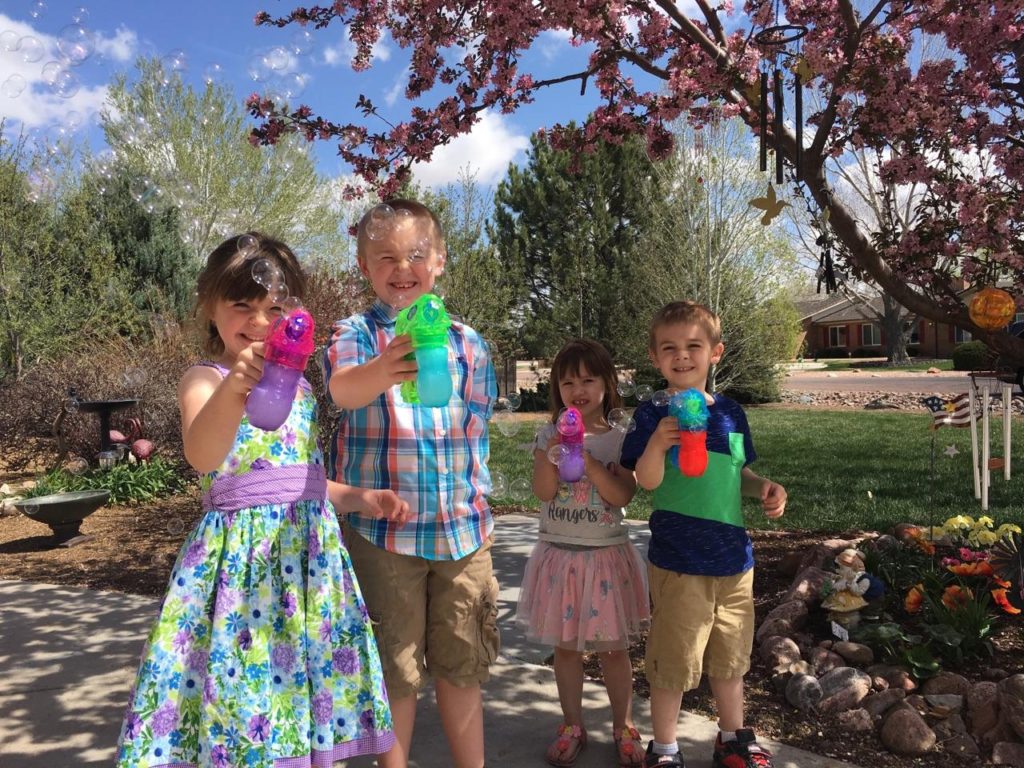 (My sister's pic… okay, maybe I do need an iphone… the pictures are way better than my Samsung).
And then just like that it seemed like our stay was over.  We knew it would only be short, but hopefully longer next time.  The kids had an exhaustively good time.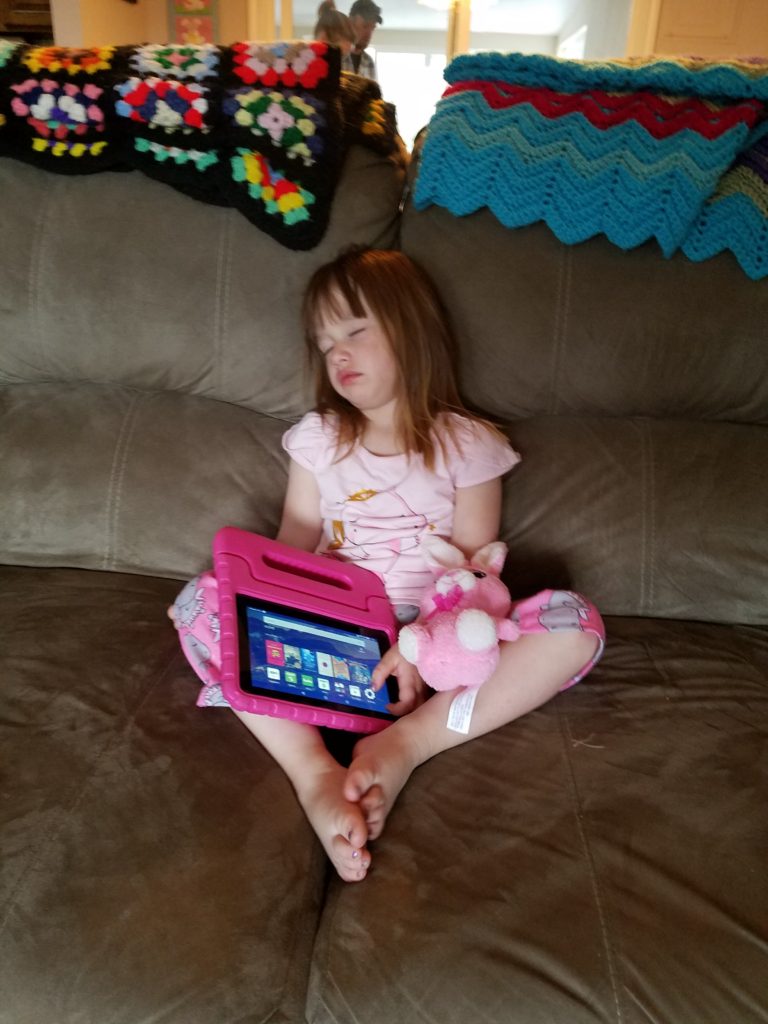 Onward we go!
To be continued….
*Pictures are a mix of phone (both mine and Josh's and our little Sony a6000).