We decided to venture out to the state fair a couple weekends ago – we knew a heat wave was coming, so we thought we'd go before it really got bad.  So, we woke up early and as soon as the little man had finished breakfast and we had all managed to get ready we got there by 9:00am, which is definitely the way to go.  There was a nice breeze and it wasn't too crowded yet, so we meandered about, starting with the Fine Arts Building so we could see my entry.  I didn't win any ribbons, but I was really proud that my photo got accepted.  There were 726 photograph entries this year, but only 126 were accepted for showing and final judging, so I was really excited. So was Enzo. 😉
We wandered around for a while, mostly to look at animals since we figured that's what would interest Enzo the most.  He definitely liked the rabbits, and it was around that time he decided his stroller was holding him back too much.  We got one of those backpack leash items for him… yeah, that didn't work out so well.  We barely got it halfway on him before he started freaking out and demanded we take it off.  So, we did our best to take turns carrying him as the crowds slowly grew, and then at one point I remember standing on the street and finally really looked up and realized just how many people were around us and tried not to have a panic attack.  I really don't care for crowds, and remembered that's why we've only gone to the state fair once since we've lived here.
While Enzo was fine with all the people, it was getting hot and he was getting tired and cranky from not being able to walk on his own, plus I was ready to just go home, so after a brief lunch we called it a day.  Our boy got his first taste of cheese curds and loved them, as well as fried alligator and Josh was my hero when he brought me frozen grapes as Enzo and I tried to find a patch of shade that wasn't already taken by someone.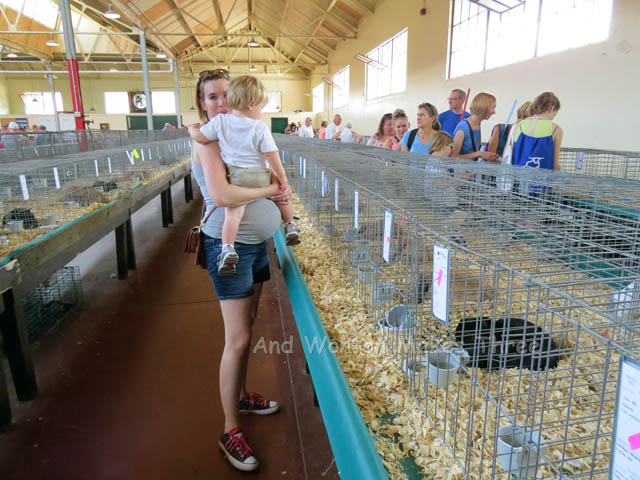 Baby boy ended up falling asleep in his daddy's arms as we walked to the car, which was pretty much the most adorable thing ever, and thankfully he stayed asleep while we put him in his car seat and cranked the AC, trying to blow the hot air out of the car.  Maybe next year we'll stick with the smaller county fairs. 😉