Last month we decided it would be a great idea to plan a last minute weekend trip to Duluth with the kids.  Not only that, but we decided to buy tickets for a short holiday train excursion, the only tickets available being for an evening ride.  Right after we made plans and bought tickets, Phoebe started sniffling and coughing and we second-guessed ourselves, but decided to press on anyway.  It was incredibly foggy, and both kids were not themselves – acting out a bit more than usual and when we arrived at our hotel we found out it wasn't ready and we couldn't check in.  So, to dinner we went.
Understandably, the kids were wriggly and didn't want to sit still after a 3 hour ride in the car.  We questioned whether or not we should continue with the night, quickly ate dinner, and drove back to the hotel crossing our fingers that the room would be ready.  Thankfully it was, however, it was also right next to the very noisy pool. Oh boy.  The kids were bouncing off the walls and being naughty, but we had those tickets, so off we went.
Both kids seemed excited about the lights and the train itself.  It wasn't a long ride, but enjoyable nonetheless. We arrived at the train depot and they got to look at a few trains before we were rushed over to the reading. Enzo and Josh sat on the floor, but Phoebe wasn't having it. She wanted to crawl and move and was tired and fussy, so I walked around with her while everyone else listened to the story. I would have loved to look around the train museum, but we didn't have much time.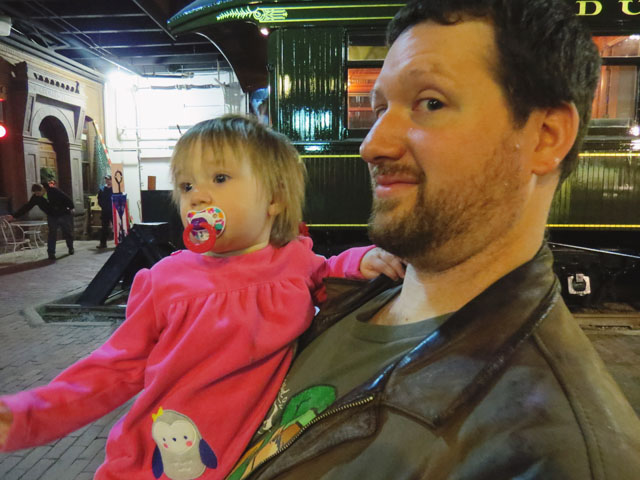 There were a lot of people and older kids, but Enzo managed to play a little before it was time to get back on the train and go.  At this point, however, he did not want to go.  He was having fun, and proceeded to lie on the floor underneath our seats and make known his displeasure to all.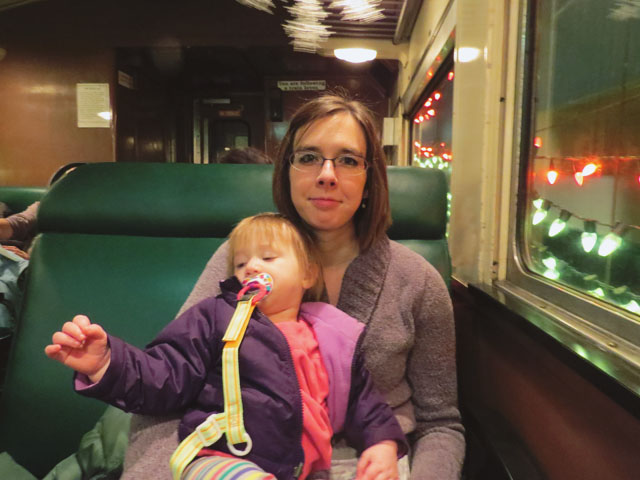 He gave up once everyone was aboard and decided to strike up conversation with the gentleman behind us, who was only semi interested in having a conversation with our 2 year old.  Enzo was not to be deterred, however.  Eventually we made it back to our hotel and all 4 of us ended up in bed together due to the pool being too rowdy and loud for the sleeper sofa and Phoebe refused to stay in her pack n' play.
We had breakfast in our hotel room the next morning before deciding to just head home a little early.  Enzo was in full on toddler terror mode and Phoebe wasn't feeling 100%, so we figured it was for the best.
I'm still not sure what had gotten into them that weekend. A full moon perhaps? Change in routine?  Let's just hope that if we continue to surprise them with spontaneous jaunts it will eventually go more smoothly. 😉