Oh, where to begin?  Enzo will be 4 in less than a month and Phoebe is well into the "Terrible" Twos. We've entered the land of crazy meltdowns, incapability to make decisions and stick with them, and straight up drama. Even Enzo has at times given me the look when Phoebe is having a moment and has sighed and slapped his head against his forehead.  They're both finding their way, and it can be hard to remember that at times when we are up against things that seem to inconsequential and silly to us, but obviously means something more to them. Ah, perspective.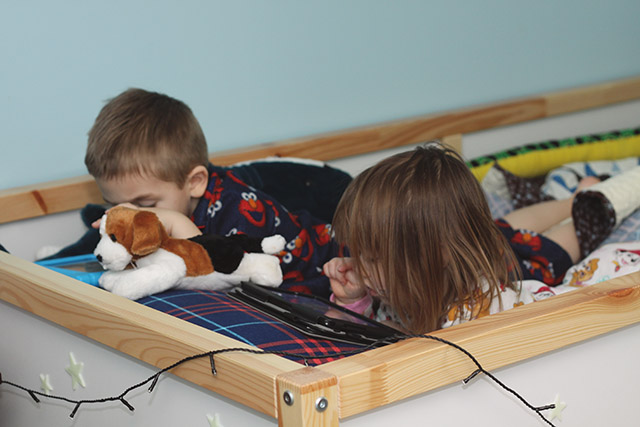 Enzo:
Is so incredibly self-sufficient.  It's incredibly helpful right now since Phoebe is in that volatile stage, so being able to ask Enzo to go pick out clothes and get dressed is awesome. He also really wants to help Phoebe, but… Two.
Enzo: I can get your water Phoebe, because I'm 3 and I'm big and strong.
Phoebe: No! Mommy do it. Mommy's bigger and stronger!
He is always making us laugh whether it be randomly breaking out into songs he know will get stuck in everyone's head or other out of the blue phrases and silliness.
Is navigating the difficult waters of having a toddler sister. He is my introvert and needs alone time, and she… doesn't care.
Is just as ready for warm weather as I am. I picked him up at preschool and he had rolled up his pants to make his own shorts.
Phoebe
Her vocabulary continues to grow and often it makes me laugh because her mannerisms are so like her brother. She looks up to him so much already, and I know that won't change.
Where do I start with all the funny things she's saying lately? She's very much interested in everything, including the human body.  We went to Target and were in the bra section when she ran up to them yelling, "Boobies!" I corrected her and then she just wanted to wear the pink ones and said she wanted to get a bra for Enzo too. Ha ha!
She is my cuddle bug and I get no exercise in in the mornings any more because she wants to just snuggle as long as possible. Her latest thing is to say, "I no feel good. I lay down in Mommy's bed and watch Mickey Mouse." Little stinker. She'll climb up and pat the bed next to her and say, "Sit down with me."
Some days it's rough, but I do so love this parenting gig.