The weekend was cold and blustery, but we did venture out on Saturday for a bad movie day with friends, and then again on Sunday for some shopping. First, however, Josh decided to suprise me with breakfast again!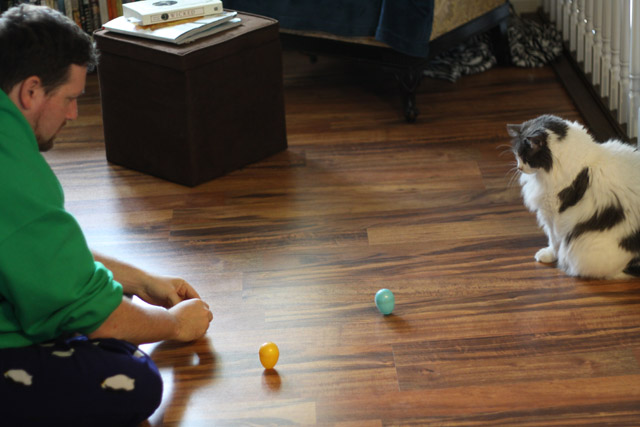 I admit, I was clueless at first when I started seeing some of the ingredients, but then when he pulled out the deep fryer – I knew. Monte Cristos! Josh decided instead of normal lunch Monte Cristos, to turn them into real breakfast sandwiches, so they were done with eggs, ham, and cheese. Most impressive of all was how he managed to run all of the stations he had set up at one time. 😉
I just tried to stay out of the way, flip bacon as needed and play with Ziggy. Who knew that plastic eggs could offer a cat hours of enjoyment?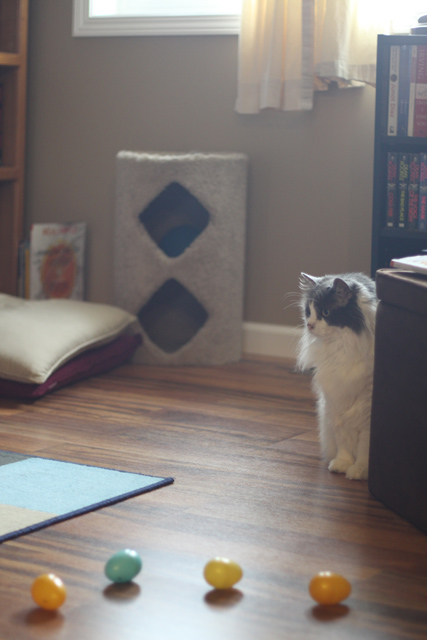 Oh yeah, and because Josh wasn't sure the sandwiches were enough, I threw together what we had in the cupboards and made a pear cobbler sort of thing that I baked in the oven. Nothing too impressive, but I can see how good it could be with fresh pears and perhaps a few other additions.
After stuffing ourselves completely, we headed out towards Target, and then made a quick detour. Twice a month or more, we drive past an antique store and finally decided to stop there as well as another antique store. I am now lusting after several vintage purses and a variety of other random items. We didn't leave empty-handed, though! We found a Strawberry Shortcake glass to add to our collection of 80s cartoon glasses as well as this cute set of encylopedias from 1952 for Mothers and a 1930s Psychology book as well as a 1937 copy of Gone with the Wind.