Growing up we played a lot of board games, and to this day I really enjoy a good board game night… unfortunately we don't often get to play them.  I suppose that's one thing I'm really looking forward to when the kids are older, as I have so many fond memories of playing games with my own family. There is always someone who drags their feet because they don't like board games (my dad), and then halfway through starts to have a blast and is nearly in tears because they're having so much fun (thank you Quelf).  There's a game for everyone!
So, it goes without saying that I was really excited to get Enzo his first real game. It comes with a big stuffed die, and cards that are color coordinated to match the colors on the die.
The cards have different categories that ask the child to make a noise like a certain animal, to complete a certain action, to find something a certain color, and etc.  As you can see, Enzo was more interested in throwing the die around.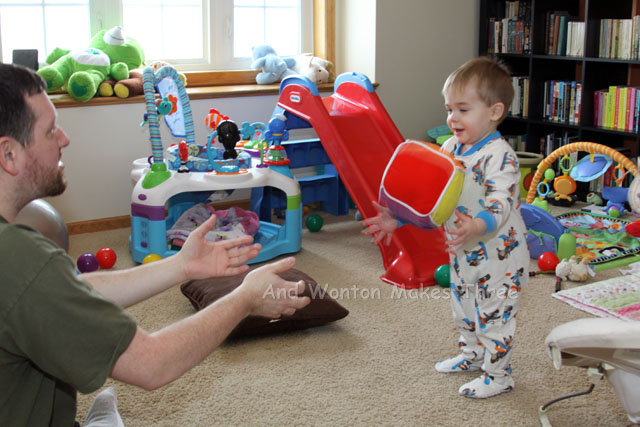 We've played the game a few times now, but are still trying to show Enzo that we roll the die first and then choose a card that matches, but in the meantime he really loves picking cards and completing the action on the other side.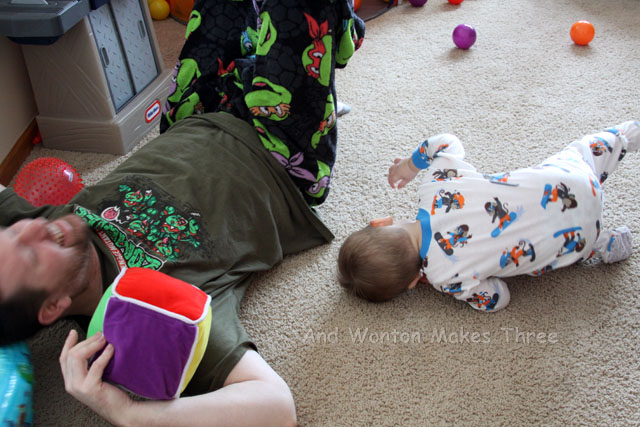 You can't ask for much more than a game that is both educational and a lot of fun… even if you're not really following the rules. Who wants to do that anyway, though? :p