Since I'm trying to focus more on reading and the things that generally make me happy and feel good, what better thing to talk about than books?  Especially since the kids seem to be just as into them as I am.  I won't lie, it pleases me to no end to walk in and find both of the kids quietly reading and looking through books.  Apparently being surrounded by books does rub off. 😉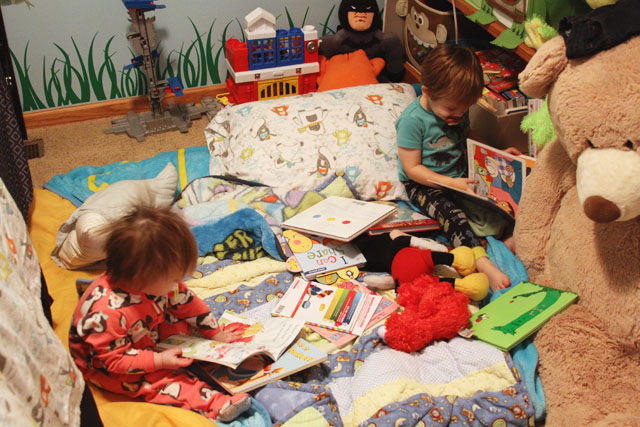 Right now Phoebe is very much into Eric Carle and Sandra Boynton.  Her first favorite book was Moo, Baa, La la la, but then that changed to Are you a Cow?  I think she's starting to grow bored with that one, though, because lately she's been shaking her head No when I try to read it and she tries to find something more interesting, like Brown Bear, Brown Bear (and Baby Bear and Panda Bear, and so on).  She could really just read all of those over and over again.
Lately Enzo has been enjoying the Berenstain Bears and Little Critter, but he's a big fan of Pete the Cat and just got a new Frozen book. We've been getting some of those Step Into Reading books that are fairly short, but will be good for when he starts reading on his own.  He's also asked to read Pacifiers Are Not Forever a lot lately, so I'm hoping that means we can get rid of his soon.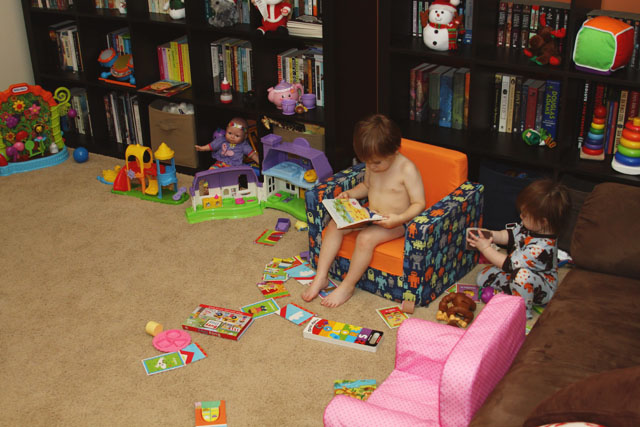 As for me… I'm going to finish up The Order of the Phoenix and then take a break and read something else on my 26 Books list.  Since I'll be flying on Monday, I think I'll stick with something on my Kindle, so maybe Hollow City (really liked Miss Peregrine's Peculiar Children). Or maybe The Girl on the Train, which I just heard about and sounded interesting. Granted, people keep saying it's a great read for fans of Gone Girl, and I was not a fan.  I plan on seeing the movie anyway, but the book drove me crazy.
Anyhoo, so many books, so little time!