These pictures aren't actually from this past weekend, but showcase what is often a typical chilly Saturday.  I'm really, really glad the weather is slowly turning around (even if it is only in the 30s today).  I don't necessarily mind hanging around the house because I can often get a few things done, but it's so much nicer when we can leave the house and do something fun.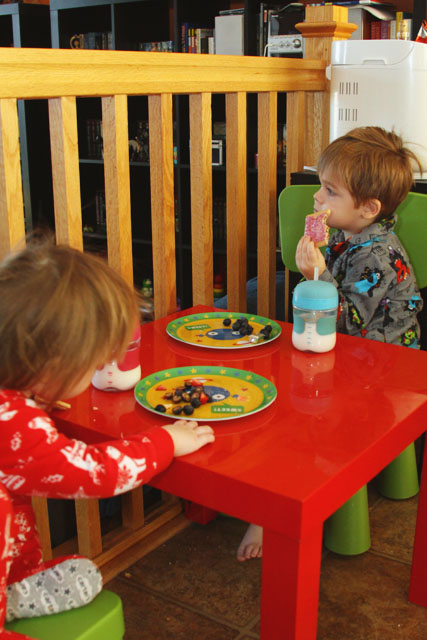 Thankfully the kids have good imaginations for the Minnesota winters that just drag on and on so even if it's cold out they don't get too bored inside the house. The hardest part is getting them to pick up toys before they drag out too many and then the whining and crying starts because they're tripping on toys strewn all over. I figured they'd be more willing to pick stuff up if they were constantly falling and tripping, but… wrong. They'd much rather whine and whine until I get up and do it myself.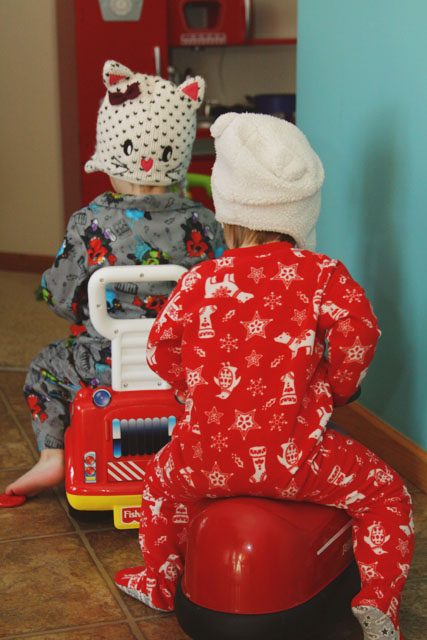 It is true that parenting gets easier, though, and this is more apparent now that Phoebe is walking and running around and she can Enzo can play together.  I still like to stay close just because you never know when a throw down is going to happen over a beloved toy, or not so beloved, random piece of junk.  The other man's grass, right?
I also stay close simply because Phoebe is constantly trying to do whatever Enzo does, so we have to ask him to please not stand on all of the chairs or jump down the stairs or so on and so forth.  We're all about letting the kids explore and trying not to hover, but considering Phoebe has my grace and very little fear, I'm cautious.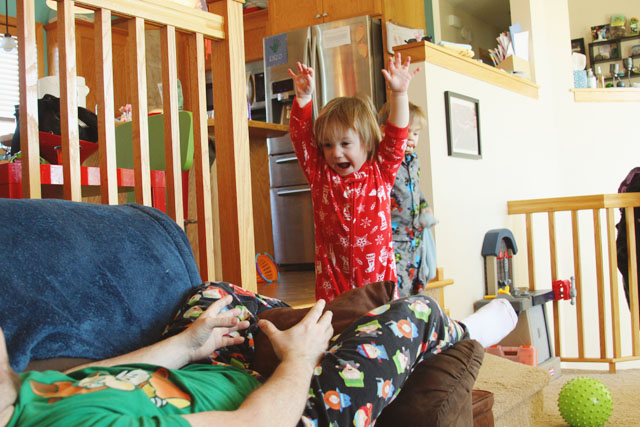 For instance, Enzo has my slight fear of heights so for the longest time he wouldn't even sit on our bar stools, but this weekend Phoebe insisted on eating snack at the counter with her brother.  If I pull out the vacuum she also runs up to it and laughs, whereas Enzo was all very wary from a young age.  He unfortunately also has a fear of bugs that I am trying to help him move past, however I'm not a huge fan of them either so this is not a fun task and I don't think I'm very convincing.
Oh well, the great thing about having kids so close in age is that despite their little spats, they really are good friends. Enzo has been such a good big brother and looks after her and comforts her whenever he can.  This past weekend when we were having trouble getting her to lay down for nap, he tried to sweetly talk to her and convince her to lay down with him. Seriously heart-melting stuff to watch… although he did attempt to sit on her to keep her in her room while we watched on the monitor.  Hey, it was the one thing we hadn't tried, so kudos for the creativity.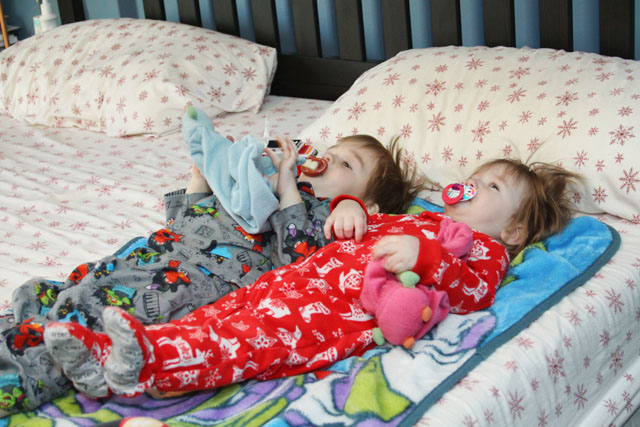 I know I've said it before, but they keep life interesting.  Their minds are always busy and I love watching the way they interact, especially when Enzo tries to teach Phoebe how to do something. Geez, soon enough and I'll be able to put my feet up while they watch themselves. 😉