I'm definitely bummed that the temperatures have dropped so quickly.  I was hopeful that the weather would continue to hold, but alas… it's been chilly and gloomy and this weekend we pulled out warm hats and gloves and decided to get out in between expected rain showers, so we went to the 101 Market, ate some food, visited the petting zoo and corn pit.
This was the first time Enzo really wanted to pet any of the animals, so as soon as he showed interest, Josh went and bought some treats to feed the animals who didn't always feel like cooperating. Enzo really wanted to pet the bunnies, the wallaby , and a couple of the other smaller critters. What he especially wanted, though, was the food pellets… yeah.  Josh handed him some to feed the rabbits and Enzo popped one in his mouth.  We figured he'd spit it out because it's gross, but not long after while Josh was feeding another animal, Enzo reached over and grabbed some more pellets and proceeded to ask for "More."
I've apparently been spending far too much money on fancy organic snacks and should have been buying rabbit feed this whole time. Who knew??
We were both actually really impressed by how many kinds of animals were in the "zoo."  Neither of us have ever gotten to pet a kangaroo before and there were actually some porcupines you could pet as well, and can be surprisingly quite docile and cuddly. They also had your usual petting zoo animals like goats (never have been Enzo's favorites) and these guys.
They very badly wanted the snack cup, and jerk on the right decided to be greedy and grabbed it right out of Josh's hand.  Notice the look of disgust?  (On Josh, not the llama).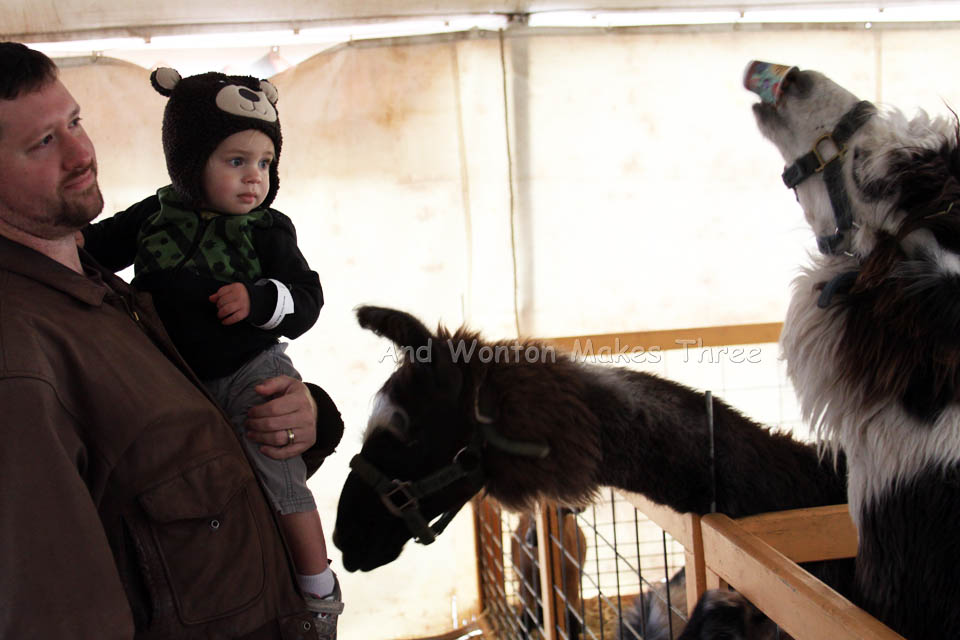 After the animal encounter, we decided to head inside and Josh joined Enzo in the corn pit.  I figured it might be too awkward for me since I'm so pregnant, so I passed in favor of watching from the sidelines and snapping a few pictures.  At first we weren't sure if Enzo would just want to eat the corn or if he'd hate it, but he ended up having a blast. Who knew corn could be so much fun?
Now we just need to start finding some indoor things to do as the weather gets cooler and cooler. We got him a snowsuit for day care, but I'm not a huge snow fan myself, so I imagine our snow play days will be far and few between on weekends, so hopefully we can find enough to do inside.