Last weekend the kids and I needed to get out of the house for a bit, so I had the brilliant idea to take them to an indoor play area so we could be out of the chill and also go earlier in the day. Everything is at least 30 minutes away from us, but most indoor play areas are further. Thankfully, however, a couple have popped up in that 30-40 minute range and so off we went!
Honestly I wasn't sure what to expect at 10:30 on a Saturday morning, but my heart sank a bit when we drove up and the parking lot was packed.  I took a deep breath and warned the kids that a lot of other people were there.  We managed to find a cubby to put our things in and off we went to brave the play area and people. Immediately Enzo and I shared a look and he said, "There's too many people, Mommy."  Phoebe was not bothered, though, and took off running.  Even she had a few moments of panic, though, when she couldn't spot me right away after getting off the slide.
We got used to the amount of people fairly quickly and to my pleasant surprise it started clearing out and the amount of noise and activity was more manageable.  We all were more comfortable and Enzo and Phoebe were all over.  It's a pretty cool place too.
I didn't get pictures of everything, but there's a fairly large play area with slides and climbing toys as well as the favorite of both kids – the bouncy pillow. Both kids spent a lot of time on the slides and were having a blast.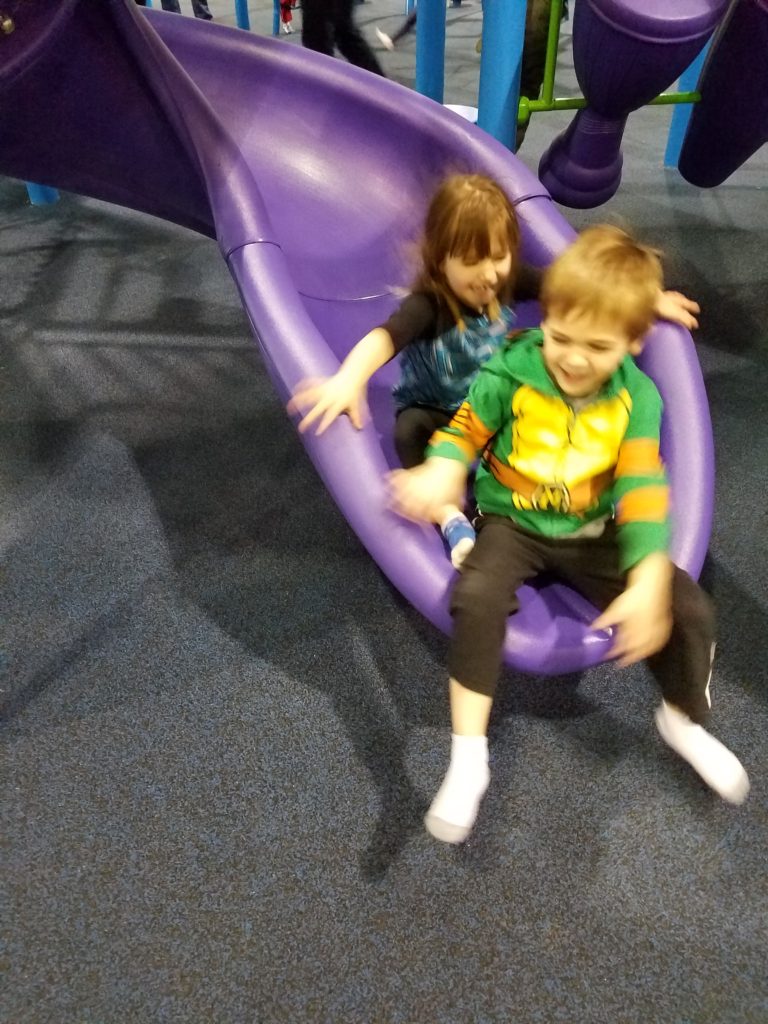 Eventually I convinced the kids to take a break for snacks, which we had brought, and had to promise several times that we weren't going to leave right away. For almost $8 a kid I had already decided we'd be here for a few hours. There wasn't enough seating at actual tables, but we found a bench to sit at over by another play area that was for toddlers.  Then we had to go bounce on the bouncy pillow, which admittedly was a lot of fun. I was probably one of only 2 or 3 parents who was openly enjoying it.  There was also a big basketball court and a smaller soccer "field."  Enzo was hooked on shooting baskets and got 5 while we were there. He was so proud of himself.
I have a feeling we'll be going back there, especially whenever the temperatures drop.  They have monthly plans and yearly plans which is also nice, but I don't think we'd be there often enough for one of those. Maybe if we lived a little closer.  For an un-staffed place, I was impressed at how clean it was and how involved parents were with their kids. Hardly anyone on their phones (except to take pictures) and everyone was respectful, which was a huge win for me.