When I was pregnant with Enzo, Josh and I booked a last minute room at a B&B in New Ulm, Minnesota for New Year's Eve.  It's a cute little town with a brewery and some nice little shops and very friendly locals.  For dinner we ate at Veigel's Kaiserhoff – we had heard the ribs were good, and nothing sounded better to me.  They were awesome.  However, it's a bit of a drive to go to often, so we rarely do.  When we heard we were going to be getting some nice weather a couple of weeks ago, we knew we had to grill and picked up some ribs and I went to Google where I was pleased to discover THE recipe! We now had a game plan.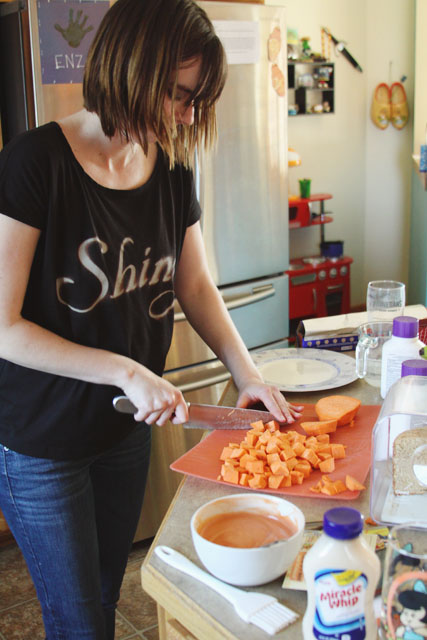 I love grilled veggies, and one of my favorite easy sides is tossing whatever veggies we have on hand into a foil packet to throw on the grill.  That night I did lots of sweet potatoes and used plenty of olive oil and Parmesan cheese and seasoning.  We've never actually done ribs before, and while I know the restaurant baked their ribs, we knew we wanted to take advantage of the nice weather.
First, you should be sure to have a beverage, and time, because you need to boil your ribs for 1-2 hours.  I'll post a link to the recipe, but I'm going to type what we personally did.
Mix together 1/4 c. brown sugar, 1/4 c. soy sauce (low sodium), 1/4 c. Worcester sauce (or if you find yourself low on Worcester sauce, like we did, you can just top off what you've got with a nice serving of bourbon), 1 tsp garlic salt, 1 tbsp lemon juice, and minced onion.
Place your ribs 2-3 lbs in a large pot. Add above ingredients and then top off with enough water to cover the ribs.  Boil for an hour to an hour and a half until the ribs have sufficiently browned.
In a small bowl combine 3/4 c. Ketchup, 2/3 c. Miracle Whip, 1 1/2 tbsp Red Hot Frank Sauce, 2-3 drops of Tabasco.
If you're like us you can grill your ribs once they're done in the pot.   Josh grilled them over medium heat, flipping them about every 5 minutes for around 20 minutes total.  He spread a little sauce just about every flip.  If, however, you prefer to bake your ribs, give yourself another hour to bake them at 350 degrees.
I'm afraid you'll have to find your own sexy beast of a man to do your grilling in his pajamas, though. Step back, Ladies. He's all mine. 😉