We really love pizza in our house, but it's not always feasible (or healthy) to order out, so another great family friendly alternative is to just make our own.  I used pizza dough and sauce recipes from the Weelicious Lunches cookbook, but made a few alterations. I love Catherine McCord's cookbooks and highly recommend them!
While Enzo can't help me with everything, he loves to dump the ingredients in the bowl, and when I pull out the mixer, he's generally excited.
Pizza Dough
1 package of active dry yeast (1/4 ounce)
1 1/3 cups of lukewarm water
1 tbsp olive oil (and more for later)
1 tbsp honey
3-4 cups white whole-wheat flour (or whole wheat if you're feeling especially healthy).
1 1/2 tsp of salt
For flavored pizza dough, a little bit of rosemary or some Italian seasoning can be a nice extra.
First, dissolve the yeast in the lukewarm water in a small bowl for 5 minutes so it gets nice and foamy. Then add the olive oil and honey and combine all of the ingredients. I used a small whisk to do this.
Combine at least 3 cups of flour and the salt in a large bowl. I have a stand mixer, so I used that and the dough hook.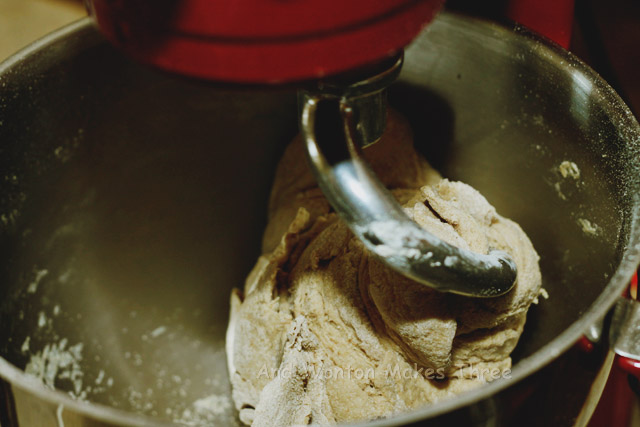 Add the wet ingredients to the dry and combine thoroughly. You're then going to want to knead the dough on a clean surface or simply turn your mixer on low watch it do the work for you.  If the dough is sticky, add a little more flour until it reaches the right consistency.  You don't want it too tough or too wet, but to be somewhat pliant. When you've decided it's finished, put the dough in a greased bowl (I use olive oil) and cover with a slightly damp towel in a warm location and let it rise for about 30 minutes and it's doubled in size.
Now is a good time to open a beer while you wait.
You'll want to preheat your oven to 500 degrees (which you'll probably want to do while the dough is rising if your oven is as slow as mine).
Lightly flour a clean surface and knead the dough for a few seconds.  I then divided the dough into four round balls since we were going to be making personal size pizzas.
For the pizza sauce, I used another of Catherine's recipes and just adjusted it to suit our family's tastes more.  I usually make this before I start on the dough, though, as it takes a while to simmer.
Veggie-Heavy Pizza Sauce
1 tbsp olive oil
1 bell pepper, diced (any color will do) More like half of one – a full pepper had a pretty strong flavor that was a bit much for us
2 medium carrots, peeled  and chopped
1 small onion, diced
1-2 celery stalks
Garlic – we always have a huge jar of minced garlic on hand, so I generally just add a big spoonful. I don't believe there's such a thing as too much garlic.
1 tbsp sundried tomato bruschetta (or 1 tbsp of tomato paste)
2 28oz cans of dice tomatoes, drained
Start by heating the oil in a saucepan over medium heat.  Add your veggies and garlic and sauté until everything is soft, so about 5-7 minutes.
Add the tomatoes and turn the heat down so you can simmer everything for around 10 minutes.
Remove the pan from the heat and transfer everything into a blender (or if you have a better stocked kitchen then I do, use an immersion blender in the pan) and blend until mostly smooth.
Return the sauce to heat and simmer for another 20-30 minutes until the sauce is thick, stirring occasionally.  If you have more time, the sauce will thicken the longer you let it simmer, so if you have an hour or so, just leave it on the stove, but be sure to remember to stir!
Once you've got your dough rolled out into personal sized pizza discs, add the sauce and whatever toppings you like.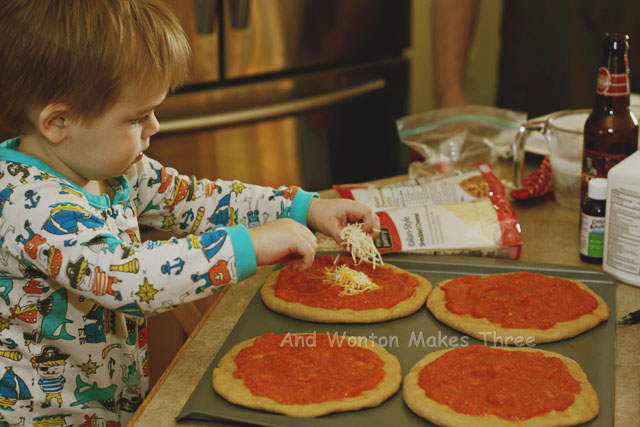 Brush the edges with olive oil, and pop into the oven for 10-15 minutes (or until golden brown).
Proceed to nom.