It's hard to believe we haven't been to the Renaissance Festival since we first moved to Minnesota. I know at least two years we decided to go to the State Fair instead of the Festival, but this year I decided it was time we returned.  While it was fun this year, I think next year will be even better when Phoebe is past her NoIWillNotHoldYourHandOrRideInTheWagon stage.  However, the wagon was much easier than the stroller when it comes to more rugged terrain.
Because it had been so long I couldn't remember whether there would be enough to keep the kids entertained or not. I guess I forgot just how much there is, though.  We were there for a good 4 hours and missed so much!  I'm already planning on dressing up the whole family next year. I was tempted to this time, but wasn't sure if the kids would cooperate.  Considering how much Phoebe likes to twirl in dresses now, though, I don't think she'd mind. Since Josh picked up an Ocarina while we were there, we're thinking we may just do a Zelda theme for the entire family since that's also probably the only way I'll get Josh to join us in costume. 😉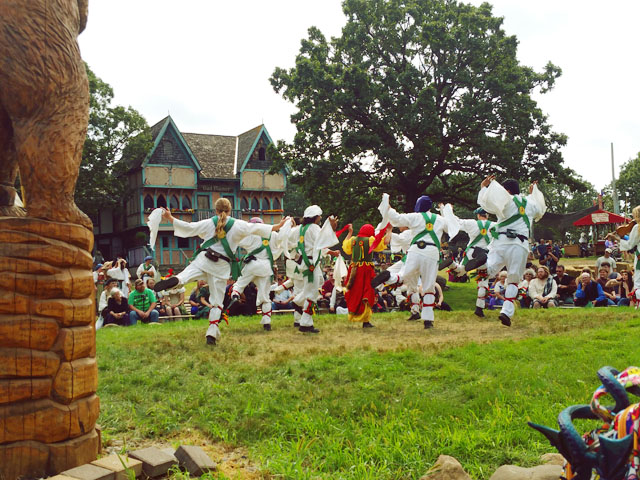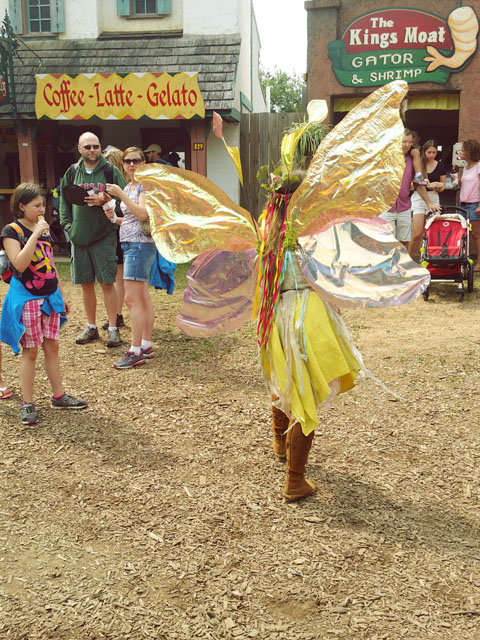 Another great thing about the Festival is that it's perfectly acceptable (and encouraged) to drink beer and wine before noon.  While Josh relaxed with his beer I took the kids on a walk through the Fairy Forest.  Enzo was a tad nervous at first, which I think was due to so many people in costume.  He was very wary about everyone who came our way.  Both kids enjoyed wandering the path and seemed more interested in walking and exploring than talking to any of the fairies or elves we met along the way.  Phoebe stopped when we came upon a girl playing a violin, though, and didn't want to leave.  The girl played her the ABC song, which completely won her over and I had a hard time talking her into leaving. We may have a future musician on our hands!
Josh took the kids through Mermaid Cove while I had a few moments to myself and got to do some people watching.  As you can see from the picture, Enzo didn't seem to be too thrilled. Ha ha!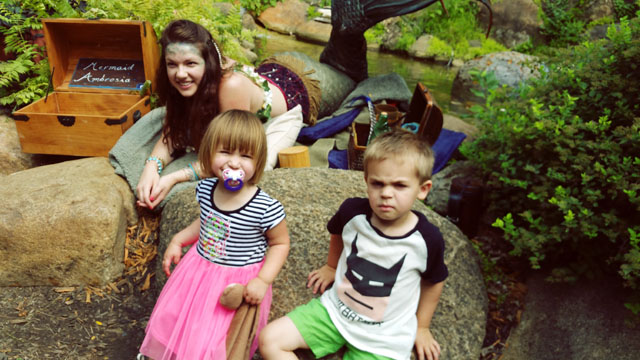 I think he was just getting a bit tired, but we had promised them souvenirs, so being the good parents we are we bought them each wooden swords and shields.  Phoebe was perhaps a little too keen and had to have hers taken away after trying to run her brother through.  At least I won't have to worry about her protecting herself in the future.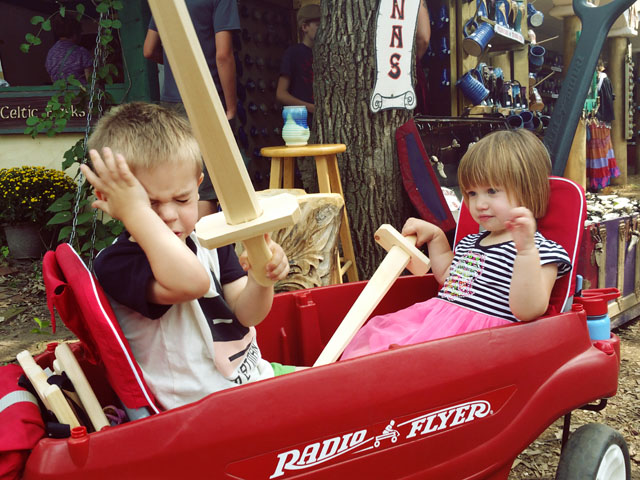 As the wind started to pick up and clouds began to move in, we decided it was time to head on out.  Josh and I are headed back for the last weekend, though, to help a friend celebrate his birthday. Huzzah!