I feel like this week has been a blur… a busy, semi-stressful, hectic, and slightly "off" week.  Maybe it's the weather or something in the air, but I'm hoping to just unwind this weekend, breathe some air and decompress. These pictures have nothing to do with anything unless you consider how easily a cat is able to just relax and simply not care about anything.  Ah, such a life.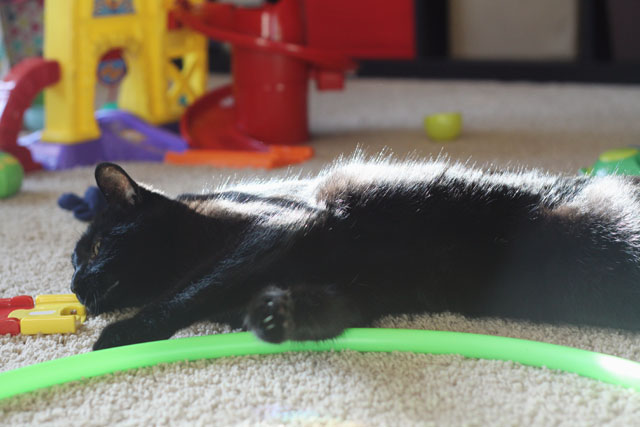 Tomorrow we are taking a very excited preschooler and his completely oblivious sister camping.  Enzo has been talking about it for about a week or so now, so we're going to stay somewhat close to the cities and hope that camping lives up to his expectations.  I think the campground we're at should have plenty of trails to walk and we've got a couple of ideas to hopefully run them ragged so they sleep.
Based on previous experience I have stocked up on several methods to keep mosquitoes away, but worst case we do have the big tent we can play in… and even though I'm hoping to avoid electronics this weekend, if we're trapped in a small space due to bugs I may just use them as a fall back.  Fingers crossed we don't get eaten alive and can actually introduce the kids to the wonders of roasted marshmallows around a campfire once the sun goes down.  No childhood is complete without good camping memories.