I'm not sure what to think of this silly weather we've been having… up and down and all the nice weather seems to fall during the week instead of on the weekend.  Most Memorial Day weekends we'd be off doing something like camping, but we definitely weren't about to do that last weekend.  The kids have been extra cantankerous, though. I'm not sure if it's the rain coming through or what, but I know I would certainly like some warm weather to actually fall on a weekend so I can soak it all up.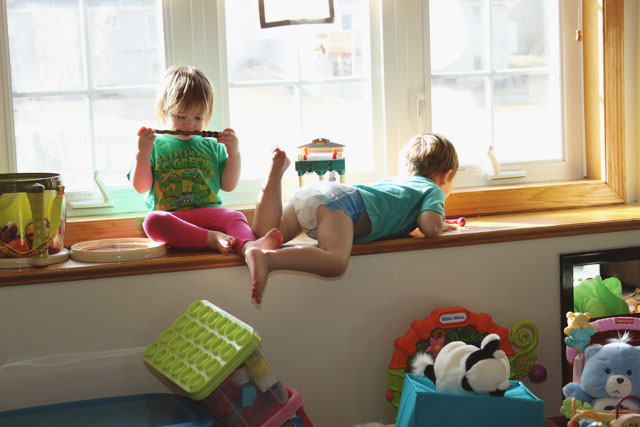 It doesn't help that there has been so much going on either.  It is time to fit in some evening walks and tackle our outside projects whenever the opportunity arises since summer is always too short.  Soon we'll be sending swimsuits to day care and trying frantically to fit in as many outside activities as possible.  I want to camping, swimming, you name it!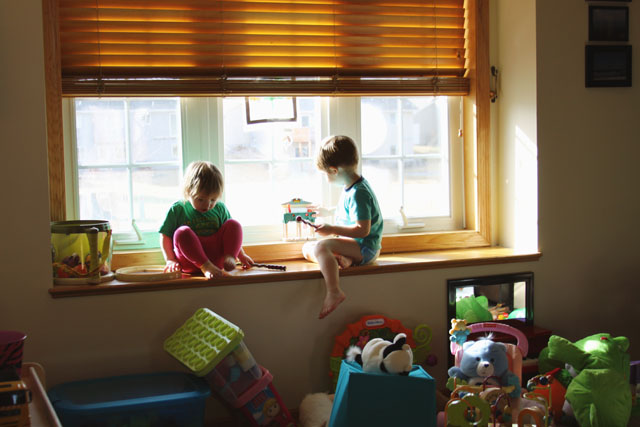 The kids did get some cousin time in over the weekend, which is always nice, and I have some pictures from when we traded babysitting a few weeks ago that I need to go through.  Josh got a couple of really good pictures and there are some fun ones of all the kiddos hanging out. I love watching our little tomboy keep up with the boys.  I swear she's more rowdy than her brother at times and giggles madly when she gets tackled.
Already she's rebelling against the dresses I've gotten her… I put one on her the other day and she wanted it off.  Then she wanted a skirt, but didn't want a shirt on.  Then Enzo wanted a skirt too, so I was like… okay, sure, why not?  They both twirled and had great fun and then watched Strawberry Shortcake, which was Enzo's choice.  I think it's good for both kids to get to do "boy" and "girl" things.  I can't imagine telling Enzo that I won't paint his nails, but I'll paint Phoebe's because she's a girl… he likes brightly colored things, so paint his nails I will!
Don't ask me where this post is going… just random thoughts on a very hot afternoon from a very air conditioned office during the slowest time of the year.  Tomorrow can't come soon enough… plus its Josh's birthday and I have surprises in store!  There is nothing more fun than surprising someone. 😉